A traditional healer testified that three men came to him and asked to be cleansed as someone was "injured" during a job they were doing.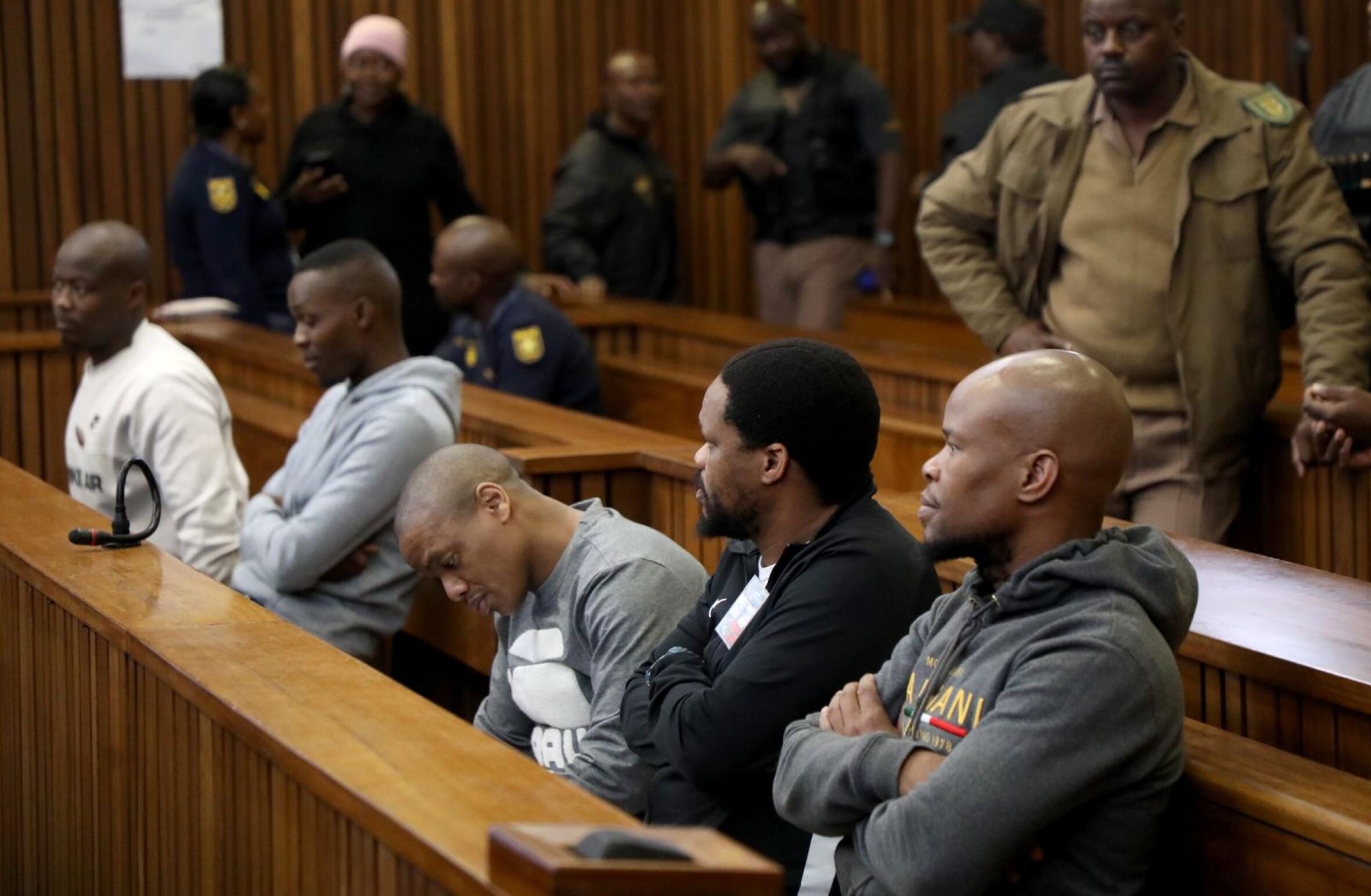 A TRADITIONAL healer testified that three men came to him and asked to be cleansed as someone was "injured" during a job they were doing.
Lionel Robert Zwane, from Palmridge, testified in the North Gauteng High Court in Pretoria on Monday during the murder trial of slain soccer star Senzo Meyiwa.
Zwane told the court that the he was illiterate and can't remember when the incident happened.
"I just use my thumb to sign, I don't even know today's date," he said.
He said he doesn't know the accused, however, he met a man who identified himself as Sibiya, who came to consult with him to help in finding work.
He said Sibiya was in the company of two other men.
When asked to point out Sibiya out of the five accused in court, Zwane said he doesn't remember him that well, but he knows that he was tall.
"The Sibiya I'm referring to is tall … I met Sibiya on the day he came to me asking for help. I can't confidently point him out and say 'yes, yes, this is him'," Zwane said.
He told the court that he gave the men medicine called "inhlanhla emhlophe" which means 'white luck'.
He said this was because they wanted their path to be enlightened where they were going.
He said he charges R100 for a consultation, but they did not consult and they paid him R500.
According to Zwane, two or three days later the men came back, saying the job had been done, but someone was injured in the process.
Zwane said because they were met with misfortune, he gave them a cleansing herb called "isihlazi sokugeza", meaning a medicine for cleansing.
He said the herb was also used for cleansing people who have lost a family member.
According to Zwane, a couple of days later, two police officers came and pretended to look for help. After helping them, they left and then an entourage of police vehicles came and that's when he was arrested.
When he got to the police station, he came across Sibiya who was in chains and he asked him what he is doing there.
State advocate George Baloyi stopped Zwane from continuing with his testimony and said he will continue with his evidence after holding a trial within a trial.
Earlier, Pieter Jakobus Smuts, an employee at SBV Security company, testified that the gun that was found on accused number three, Mthobisi Mncube, belonged to his company.
Smuts said the gun was stolen during a cash-in-transit robbery in Rabie Ridge in May 2013 and a case was opened.
According to Smuts, they were only notified in 2020 that the gun was recovered.
"I was phoned by Sergeant Mulaudzi to make an affidavit that this firearm belonged to our security company. I made that affidavit to say the gun belonged to SBV in November 2020," he said.
Meyiwa was killed while visiting his singer girlfriend, Kelly Khumalo, at her home in Vosloorus on October 26, 2014.
The five accused in the Meyiwa murder trial are Muzikawukhulelwa Sibiya, Bongani Sandiso Ntanzi, Mthobisi Mncube, Mthokoziseni Ziphozonke Maphisa, and Fisokuhle Ntuli.
The trial continues.