Youth football development in the Northern Cape will shortly receive a shot in the arm as the Safa has teamed up with digital sports magazine FarPost and sports consultants Bosco Sports to chart a development path for them.
YOUTH football development in the Northern Cape will shortly receive a shot in the arm as the South African Football Association (Safa) has teamed up with a digital sports magazine and sports consultants to chart a development path for them.
Safa vice-president Gladwin White – who also chairs the Northern Cape Football Development and Education Trust – and provincial secretary Willem Coetzee, announced yesterday in Kimberley that they have engaged digital sports magazine FarPost and sports consultants Bosco Sports.
White, who has temporarily swapped his office at Nasrec, Johannesburg for a home office in Barkly West said, "We've engaged Bosco Sports to seek resources using the (Safa) PEC's strategic document from 2019 to lobby corporate South Africa to invest in football development. Today's convention is the culmination of that idea discussed that far back.
"This is our bid to revitalise football development in the province. FarPost is a consulting firm that is interested in hosting an event here in the Northern Cape provisionally known as the 'Football Spectacular'. We plan to host a youth tournament here soon for girls Under-19 and boys Under-20 age groups from each of the five regions of the province.
"We are likely to see some action on that front this year. So something is definitely unfolding. We are taking up the slack which had been imposed on us by Covid-19".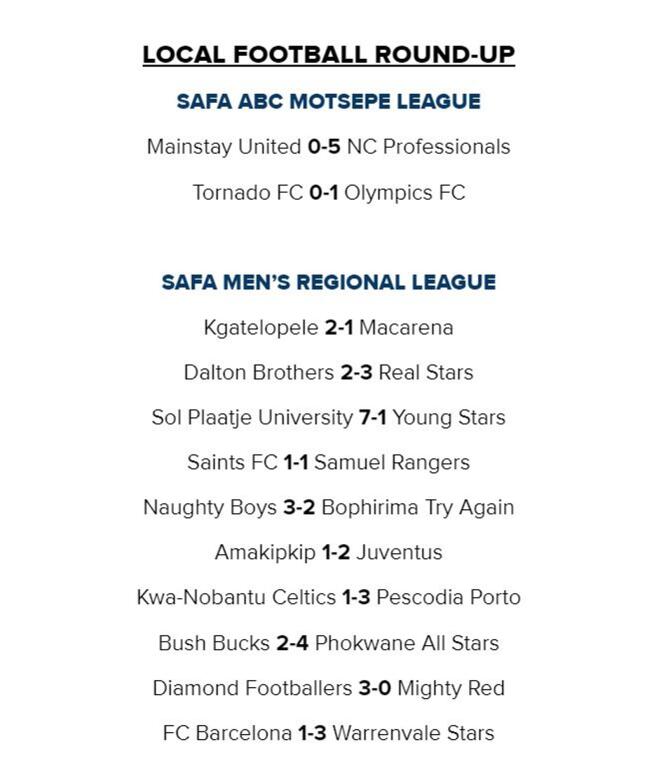 Safa and the parties involved have tentatively agreed to host a youth development tournament in the province as soon as they have finalised the logistics around hosting it. The parties will reconvene shortly at an appropriate date at which occasion they will finalise the details of the intended tournament.
FarPost editor Tiyani Mabasa says they have been bought on board by Safa. "We've decided to put the spotlight on the Northern Cape as a whole, It (the province) has proven that it has talent. But we have picked up that the focus is mostly on other provinces. Our idea is that we are not necessarily bound to one province.
"We want to contribute to the growth of football in all provinces. We felt that the Northern Cape's cause is worth being promoted.
"Since we originate in Limpopo we have done a lot over there. We want the same for the Northern Cape. As a sponsor there are a lot of things that go into a tournament. FarPost is going to come in with its own investment.
"We are not in this venture for financial gain but more as a way to help the province move forward. As such we have yet to put a round figure to what we bring to the province.
"We've spoken to the Safa Provincial Executive Committee (PEC) and enquired from them as to what their needs are. We will put on offer our contribution to kickstart the process of youth football development in the province. Our engagement will be an ongoing thing. The province has proven in the past that it has produced players but it needs a helping hand."
FarPost National selector and programme co-ordinator for the intended tournament, former Mamelodi Sundowns and Kaizer Chiefs scout turned sports consultant, Walter 'Baresi' Steenbok explained that his involvement with the Safa project was to select elite teams that will represent the province on other platforms and far bigger projects that may even take them on tours nationally and abroad.
"My duties also extend to dealing with technical reports of the tournament. We are here to give the players an accelerated programme and share our experiences via small seminars and workshops. I also deal with a lot of developing technical reports and such.
"For far too long the Northern Cape has lagged behind others. At the weekend for instance, the province had two players in the CAF Champions league when Rivaldo Coetzee and Bradley Ralani appeared for Sundowns against Al Ahly.
"This shows that if we put human and technical resources behind our players they can achieve a lot. That is why we are here to get them involved in an accelerated programme.''
Safa provincial secretary Willem Coetzee confirmed that they had discussed a far-reaching deal with the sports consultants to advance development for girls and boys in the province.
"We as the PEC found a suitable sponsor to help the under-aged development effort for boys and girls. We start today to work towards a tournament for under-aged boys and girls. They (the consultants) want to invest in the Northern Cape for development. We ought to have a date soon on which to meet and finalise the tournament details.
"The main thing is to get boys and girls involved over a multi-year period in this unlike in the past when we used to host short, once-off projects. This one will happen every year and go forward. We will start from Local Football Association level and go up to the provincial level," Coetzee said.