He keeps on getting in the top 10 even though he's a junior shooting against more mature players.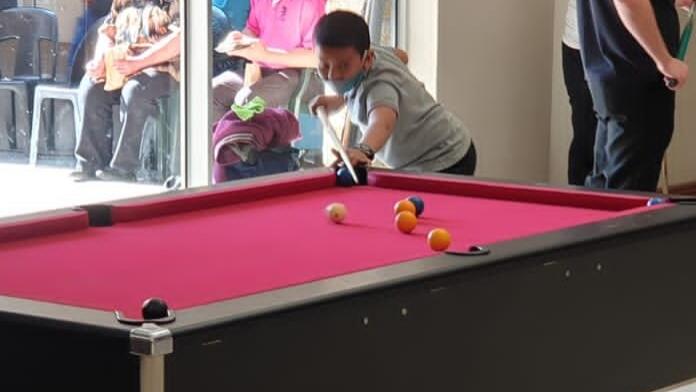 KIMBERLEY'S own 10-year-old Ashwill Thomas has beaten the odds in the Black Ball community by becoming the youngest player to have qualified from his team to take part in the upcoming South African national tournament.
Ashwill was last weekend part of a trio of players, including his doting dad Ashwin and brother Leano, 19, who qualified from the local C-Pac Pool Club for the national tournament.
The pool-playing Thomas family were the toast of the pool fraternity when they beat their way into the SA national championships that are scheduled to take place in June this year. The trials ran from Wednesday to Sunday last week at Kimberley's Club Destiny in Square Hill Park.
Team spokesman Esua Montzinger said the young Ashwill's rise in the game has been nothing short of meteoric. "He started shooting pool in 2019. He has not won anything yet as a junior player as he does not have a category yet to play in. So he takes his chances against the older players to get into tournaments," Montzinger said.
"He is not shooting juniors. He keeps on getting under the top 10 (players) even though he's a junior shooting against more mature players," Montzinger added.
Montzinger said that despite his young age Ashwill does so well at his game that he often gets chosen to be in tournaments based on his previous match points. In this instance he was chosen for the South African tournament based on last weekend's game.
Young Ashwill is still in Grade 5 and according to Montzinger the youngster would like to become a lawyer when he grows up.
As for Ashwill's involvement with the family's favourite adopted game, this is due to his father Ashwin and brother Leano who also play the game.
Montzinger said Ashwill grew an appetite for the game while barely out of his nappies and as a child "grew a passion for this sport. He would like to be the pool champion and also SA's national pool representative"
Ashwill will be accompanied to the SA tournament by his brother Leano, who placed first in his age category.