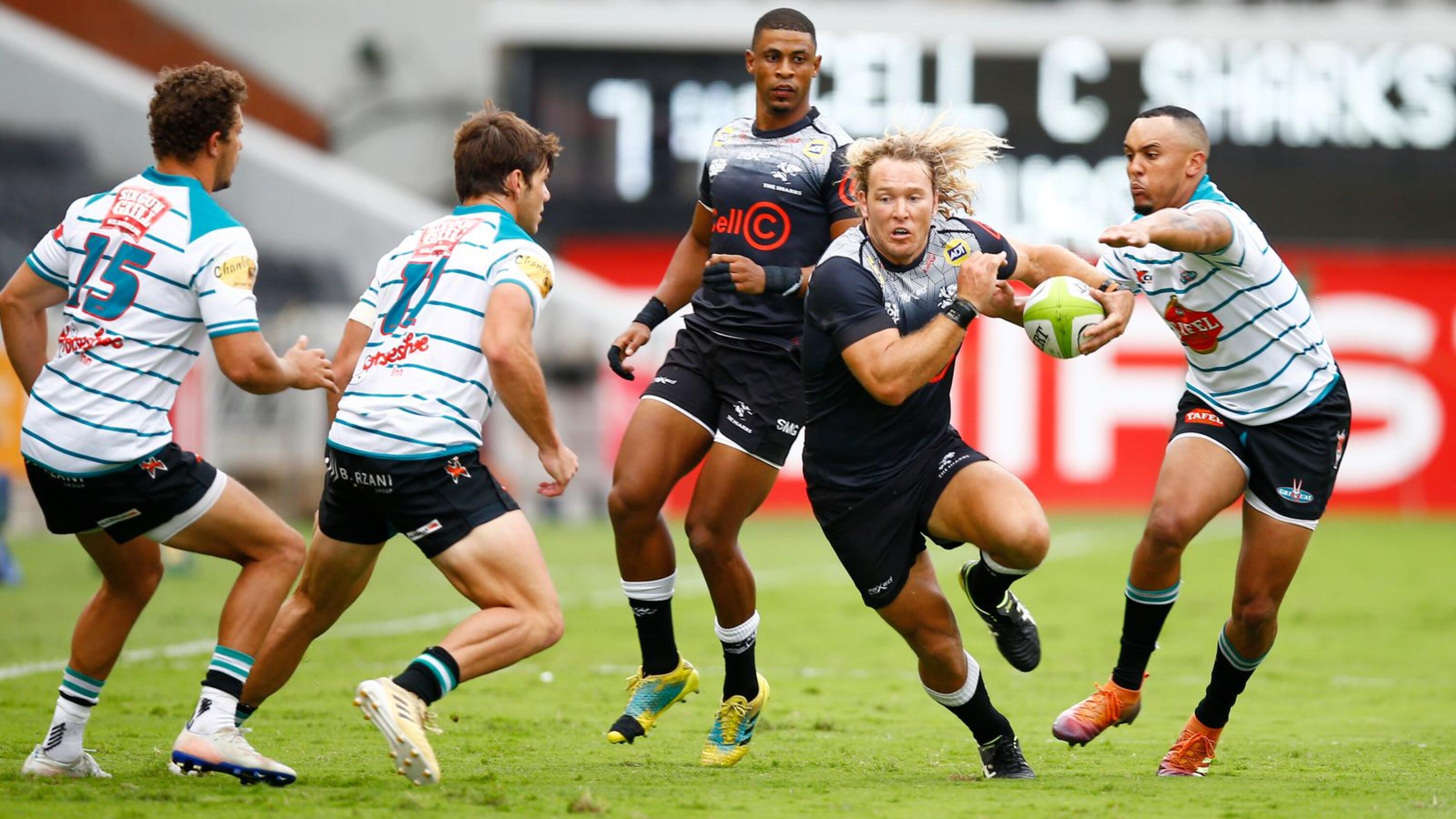 TAFEL Lager Griquas were hammered 30-16 by the Cell C Sharks in their opening match of the Carling Currie Cup at Tafel Lager Stadium on Saturday. The visitors ran in four tries to Griquas two, and picked up a bonus point as a result.
It was a rather disappointing opening match for the local side, who had given a good account of themselves in their Preparation Series Rainbow Cup campaign. Griquas lost most of their matches in the series with close scores against the big unions, but managed to win two of them.
After Sharks first try on Saturday, Griquas could count themselves slightly unfortunate when referee Rasta Rasivhenge initially seemed happy enough to award a pushover try by debutant hooker Janco Uys after he was mauled over the line following a line-out.
However, after consulting with the video referee, the decision was reversed and the relieved Sharks were able to clear their lines.
Full Time

Tafel Lager Griquas 16 – 30 Cell C Sharks

📍Tafel Lager Park pic.twitter.com/1bw5lx6yZ9

— Griquas Rugby (@GriquasRugby) June 19, 2021
A disappointed head coach, Scott Mathie spoke to the DFA after the match lamenting the fact that they never took advantage of their opportunities.
"We were not in an ideal spot; we were our own enemies in many respects. I think we did enough in that game to win it, but we didn't take our opportunities. We allowed vital set piece opportunities to go begging due to poor decision-making (and) we gave them two very soft tries back-to-back, which broke a lot of our momentum."
The game started on a positive note for Griquas as they earned a few scrum penalties, looking like they were up for the game. Unfortunately, the hosts' momentum was stopped when Sharks No.8 Phendulani Buthelezi scored.
It was not all doom and gloom though with the halftime score of 6-10 a positive sign as the hosts were still in the game.
The second half though proved Griquas' undoing – poor kicking, poor line-out work and scrum pressure turned the game around.
The Griqua coach was not completely disheartened by his team's play. "I thought our breakdown was very good and we did create the opportunities to make it a very different game. So we need to learn from those individual errors and those set piece errors and make sure we are more clinical next time," he said.
So once again, Griquas came up short against one of the big SA teams, but the Kimberlites will be working hard so that next week against the Cheetahs, they will put this right.
It has to be said that there were flashes of good play and some very positive signs, but basic errors broke down the momentum, often when Griquas were in the Sharks' half.
POINT SCORERS:
Griquas (6) 16 – Tries: Eduan Keyter, Daniel Kasende. Penalties: Whitehead (2)
Sharks (10) 30 – Tries: Phepsi Buthelezi, Hyron Andrews, Jeremy Ward, Kerron van Vuuren. Conversions: Boeta Chamberlain (2). Penalty: Chamberlain. Drop-goal: Chamberlain.
Dave Alexander and Rugby Correspondent