The only bowler for South Africa who made any impression was Achille Cloete with 2/20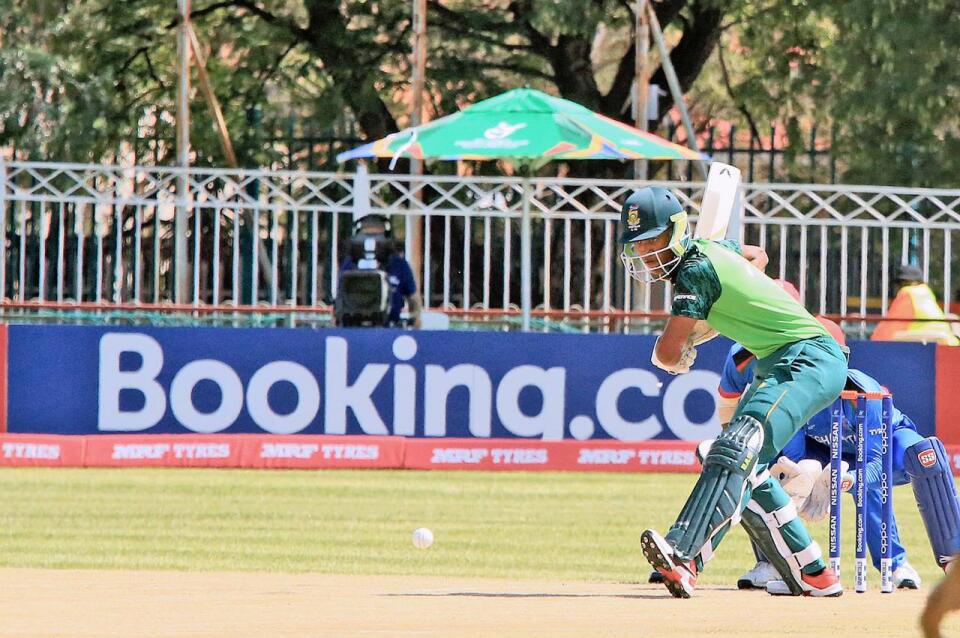 It will be back to the drawing board for the South African Under-19 cricket team after a mediocre batting performance coupled with some spin-wizardry by Afganistan's Shafiqullah Ghafari gave them the worst possible start to their 2019 ICC Under-19 Cricket World Cup campaign at the Diamond Oval on Friday.
The next day it was Australia's turn to limp back to their hotel to lick their wounds, after they were beaten by three wickets in a nail-biter against the West Indies.
After a well-rehearsed and entertaining opening ceremony by local performers in front of a good crowd that swelled to almost 3 000 on Friday, the tournament hosts were bowled out for a disappointing and embarrassing 129 in 29.1 of their 50 overs.
The chief destroyer for Afganistan was Ghafari who took 6/15 in 9.1 overs and was deservedly named Man of the Match.
Only three South African batsmen managed to reach double-figures, with SA Under-19 captain Bryce Parsons leading the way with his 40, Gerald Coetzee scored 38 and Luke Beafort contributed 25.
Afghanistan initially struggled to find their rhythm but eventually ran out comfortable winners by seven wickets, with Imran Mir (57) and Ibrahim Zadran (52) putting on a third-wicket partnership of 80 runs which was the backbone of their victory.
The only bowler for South Africa who made any impression was Achille Cloete with 2/20.
On Saturday West Indies beat the Aussies by three wickets with three overs to spare. Due to the rain that fell the match was reduced to 49 overs per side.
Australia, batting first, notched up 179 all out in 35.4 overs with their top batsmen being Jake Fraser-McGurk (84), while wicketkeeper, Patrick Rowe chipped in with 40.
For the Windies, Matthew Forde 3/24 and Jayden Seales 4/49 stood out in their bowling attack, which also restricted the Australian total.
In reply West Indies battled against some good bowling and fielding from the Australians, but managed, in the end, to knock off the required runs, scoring 180/7 and claiming an important three-wicket win.
There were some flutters for the Windies as the wickets started to tumble, but some lusty sixes from Man of the Match Nyeem Young (61), and his batting partner Matthew Forde (23), helped the West Indians over the line.
The pick of the Aussie bowlers was Tanveer Sangha with 4/30 in his 10 overs.