Against all odds, Temba Bavuma and his men are still in the running to make history and to bring the World Cup trophy to South Africa for the first time.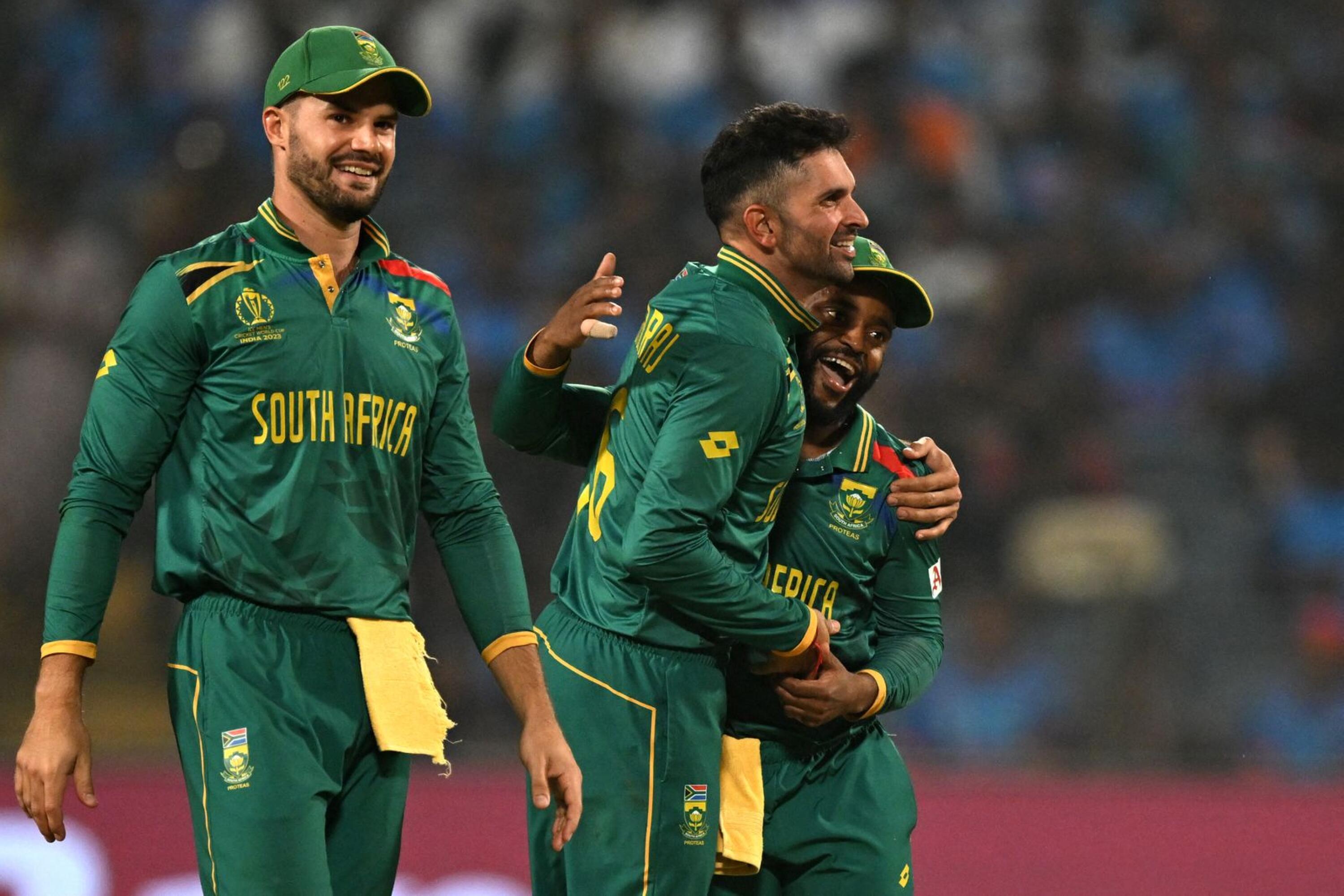 The Proteas have done it! Following Saturday's World Cup results, where Australia beat England by 33 runs and Pakistan beat New Zealand by 21 runs, the ICC confirmed that South Africa have secured a semi-final spot.
Against all odds, Temba Bavuma and his men are still in the running to make history and to bring the World Cup trophy to South Africa for the first time.
The Proteas are currently second on the log with 12 points from seven matches, two behind India, whom they will face at Eden Gardens in Kolkata on Sunday (10.30am SA time start), before taking on Afghanistan in their last group-stage match on Friday.
Australia are third on 10 points after seven matches, and New Zealand in fourth have eight points from as many games – and they are only ahead of Pakistan and Afghanistan on a net run-rate.
Semi-Final spot on lock 🔐

We march on in the #CWC23🇿🇦#WozaNawe #BePartOfIt pic.twitter.com/WXgBHWtLmq

— Proteas Men (@ProteasMenCSA) November 4, 2023
Meanwhile, of all the Proteas batters, Bavuma is the only one who is yet to register a big score at the ongoing World Cup. The captain is in good touch with the bat upfront, but has found ways of getting himself out every single time.
Bavuma has produced scores of eight, 35, 16, 28 and 24 over the past few weeks, and will hope to convert a solid start into something substantial in today's massive World Cup showdown against India.
Most importantly, the skipper has experienced multiple lean patches in his career, and knows how to get himself out of a lean patch.
"You always want to be making contributions. The other batters are smashing it at the moment, and I think I take comfort in the fact that I've been involved in some partnerships with Quinton (de Kock) upfront," Bavuma told the media yesterday.
"It is the best I have ever seen him play in a World Cup" 💬

Quinton de Kock's record-breaking display at #CWC23 has captured the attention of a South African legend 🇿🇦https://t.co/lqBk5L7IKa

— ICC Cricket World Cup (@cricketworldcup) November 5, 2023
"Obviously you want to extend it. I guess from my side, maybe it's just one of those patches again where you're kind of scratching, but I think you've got to keep that belief that the opportunity will be there for me to make a big play within the team.
"I think that's where my head is at, but I take a lot of comfort in the fact that we've been getting starts in that first 10 overs – and obviously with the guys being in form, they've been able to exploit that."
Around Bavuma is a group of batters who have played alongside him for many years in the green-and-gold, and also at home in domestic cricket.
His opening partner De Kock has been a teammate since their days at the Lions, and they have been a pair at the top of the order for a long period of time.
The captain has the backing of his teammates that he will come right when the Proteas need him the most in the World Cup.
"I take a lot of confidence from that (backing from teammates). That's something that I feel every day within the team," said Bavuma.
"And I think it's probably due to the fact that there's a group of batters who've been with each other for the last three or four years, however long it's been.
"We've seen each other go through the little ups and the downs, and we know that all of us mentally have what it takes to get over, I guess, the little challenges that we face. I guess for me, I just need to keep sticking to my processes, keep preparing as well as I can – and if I'm doing that, hopefully the result will take care of itself."
Bavuma will have a big role to play today as South Africa will face a quality attack in Jasprit Bumrah, Mohammed Siraj and Mohammed Shami.
The right-handed batter understands the threats that the Indian attack bring, and also recognises an opening in the attacking nature of the Indian bowlers.
"Our wrong-footed, in-swinging menace" 😯

Rahul Dravid hinted at Virat Kohli being a potential sixth bowling option for India ⬇️#CWC23https://t.co/HGF6cBZ6lN

— ICC Cricket World Cup (@cricketworldcup) November 5, 2023
"The three upfront – Bumrah, Siraj, as well as Shami – are guys who can exploit anything with that new ball. If there's swing, if there's nip, they can exploit that and are quite attacking bowlers as well, so I guess with that, there comes an opportunity to score," he said.
"But you really got to be on your A-game with that new ball. Then obviously they've got their spinners in the middle who really hold the game in – (Kuldeep) Yadav as well as (Ravindra) Jadeja… Yadav has that ability to take wickets ."They obviously only have five bowlers, so they can, I guess, be put under pressure if one of their bowlers has an off day.
"But I think you've got to probably respect their bowling attack a little bit more than the other bowling attacks, and understand that you're going to have to play good cricket for longer periods."
Three teams are locked in on eight points as Pakistan kept their #CWC23 campaign alive 👊

Semi-final scenarios ➡️ https://t.co/FPLZumw5LU pic.twitter.com/prlKr26SyM

— ICC Cricket World Cup (@cricketworldcup) November 5, 2023