After a successful run at the recent provincial competition, Northern Cape Archers are focused on the AGA-SA National Tournament in October.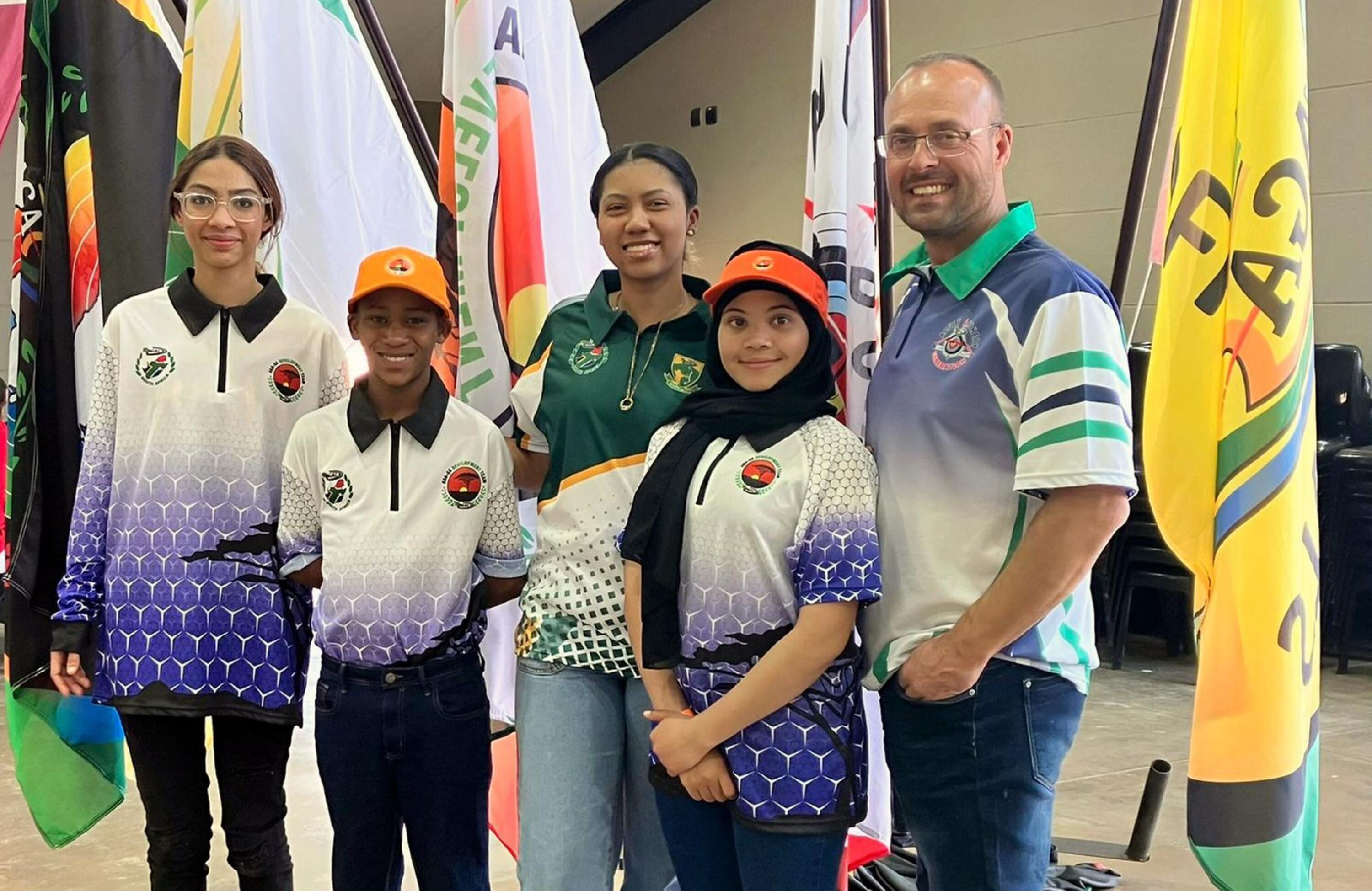 ARCHERS from the Northern Cape demonstrated their expertise in a spirited clash during the AGA-NC Provincial Competition held on August 5. With a nationwide participation of over 1,500 individuals, this annual event holds significant importance as archers strive to secure spots in their respective AGA Provincial Teams for the imminent AGA-SA National Tournament in October.
The Africa Genesis Archery Northern Cape (AGA-NC) chapter witnessed an impressive turnout of 60 archers this year, all contending for the coveted top 16 positions across three categories: Junior, Junior High, and Adult. Dawid de Greeff, the AGA-NC Coordinator, emphasises that this competition transcends mere target practice. "It's the convergence of dedication and competition, with the aim of representing our province on the national stage," de Greeff told the DFA.
The path to provincial triumph wasn't a simple bull's eye. Archers had to navigate through a minimum of four contests throughout the year, culminating in the Provincial competition. Outstanding performers earned berths on the Northern Cape Provincial Teams, while those consistently achieving an average score of 260/300 across their best four events, including the Provincial Event, earned nominations for the esteemed Northern Cape Provincial Colours in Archery.
The AGA-NC orchestrated the assembly of two Provincial teams to vie at the AGA-SA National Tournament, highlighting a fusion of youthful talent in the combined Junior Provincial Team, featuring high school and primary school archers. The seasoned Adult Archery Generation (AAG) Team stood poised to showcase their skills and experience.
The competition transcended merely hitting targets; it extended to celebrating dedication. A post-competition ceremony commended the relentless commitment and year-long efforts of the archers. Notably, NTT Volkswagen and Suzuki Kimberley contributed to the accolades, acknowledging the season's exceptional Bull's Eye achievements with meaningful prizes.
Amidst cheers and applause, 40 archers proudly earned their positions in the Provincial Teams, with an impressive 23 of them receiving Provincial Colours in Archery, a recognition of their unwavering excellence.
These ambitious endeavours thrive due to the generous support of sponsors. NTT Volkswagen, Suzuki Kimberley, and Ekapa Minerals stepped up to ensure the Provincial Teams donned an impressive appearance.
However, financial challenges persist, as the anticipated cost per team member to participate in the upcoming National event is estimated around R7,000. This financial requirement encompasses essentials like transport, accommodation, and sustenance. The AGA-NC appeals to businesses and individuals to rally behind these representatives of the Northern Cape, embracing the unifying spirit of sportsmanship.
As the Northern Cape's archers gear up for the AGA-SA National Tournament, one thing is certain: they are aiming high, targeting not just the bull's eye but the stars.
For those eager to join the archery movement or extend their support, the AGA-NC Coordinator's office in Kimberley can be reached via e-mail at [email protected].
2023 Provincial Team Members
Junior Provincial Team: Terence van Eck, Marvin Ponton, Otniel Van Wyk, Tru Shaw, Dylan O'Connell, Hennie Victor, Elrize de Greeff, Naadirah Cader, Fathima Mustapha, Jaco Niemand, McKylla van der Westhuizen, Lilly-Ann Heuwel, Haajirah Hunter, Athrah Arnold, Aaliyah Paulsen, Chloe Obaray, Nusrah Beckmann (reserve), James Kotzé (reserve)
Adult (AAG) Provincial Team: Odette Victor, Philip Kotze, Dawid De Greeff, Karin Bester, Annemarie de Greeff, Mario van der Westhuizen, Henk van der Schyff, Danie Victor, Kevin Ponton, Andrieka Stroebel, Johan van Zyl, Shihaam Joemat, Jamilla Beckmann, Vernez Obaray, Camryn Rodger, Nicole Krige, Jan Visagie (reserve), Chloe Janse van Rensburg (reserve)