Kimberley residents are in for a treat as there are only a few weeks left until the African Archery Federation Tournament, happening on the weekend of July 2-3 kicks off at the Mittah Seperepere Convention Centre.
THERE is an old saying that Kimberlites have embraced; it has been circulating for years. We have all heard it, and sadly most of us are inclined to believe it. The saying goes: "nothing ever happens in Kimberley".
Well, Kimberley residents are in for a treat as there are only a few weeks left until the African Archery Federation Tournament, happening on the weekend of July 2-3 kicks off at the Mittah Seperepere Convention Centre in the Diamond City.
This will be the first time that such an event will be held in Kimberley. Africa Genesis Archery (AGA) Northern Cape won the bid to host this prestigious event. The National Teams of AGA South Africa, Namibia, Botswana and Zimbabwe will each be hosted in a city in their own country from where they will compete virtually against the other countries.
South Africa's junior, development, and adult archery teams will get together in the Diamond City for the two-day tournament, which will be broadcast live by Digi TV / Kimberley TV. Archers will compete in a Bull's Eye as well as a 3D competition.
In the Bull's Eye competition, archers shoot 15 arrows at an 80cm fita target (stationary circular targets) at a 10m distance. They will then fire fifteen arrows at a 15m distance to get a score out of 300. In the 3D competition, arrows are shot at six, 3D moulded, life-size animals. Individual archers and teams with the highest overall scores are announced as winners of the tournament.
This event promises to offer entertainment for the whole family. There will be all kinds of food stalls, the Spur Burger Caravan, Tom's Sausage Deli, braaivleis, halaal stalls, and many more treats to choose from. There will also be live music and entertainment as well as local business exhibitions that will include Wildman, Remax, Brothers Audio, and many others.
Shikwaru Bowshop (all the way from Limpopo), importers of Mathews Bows, and other archery equipment will be exhibiting their wares at the tournament. And good news for the sweet tooth – even if archery is not your thing – is that Marida Schutte, SA's koeksister champion will also be at the event.
Tickets are reasonably priced, under R100 for an adult weekend pass, and are available online. Entrance for children and participating archers is free.
The organisers sent out a big thank you to the tournament sponsors for making this event possible: The Northern Cape Tourism Authority, Northern Cape Hunters Association, Digi TV Kimberley, Horseshoe Inn, Steel & Pipes for Africa Kimberley, Africa Genesis Archery South Africa NPC, Oasis Water, Sky's Aquifer, Spec-Savers Kimberley and Toyota Kimberley.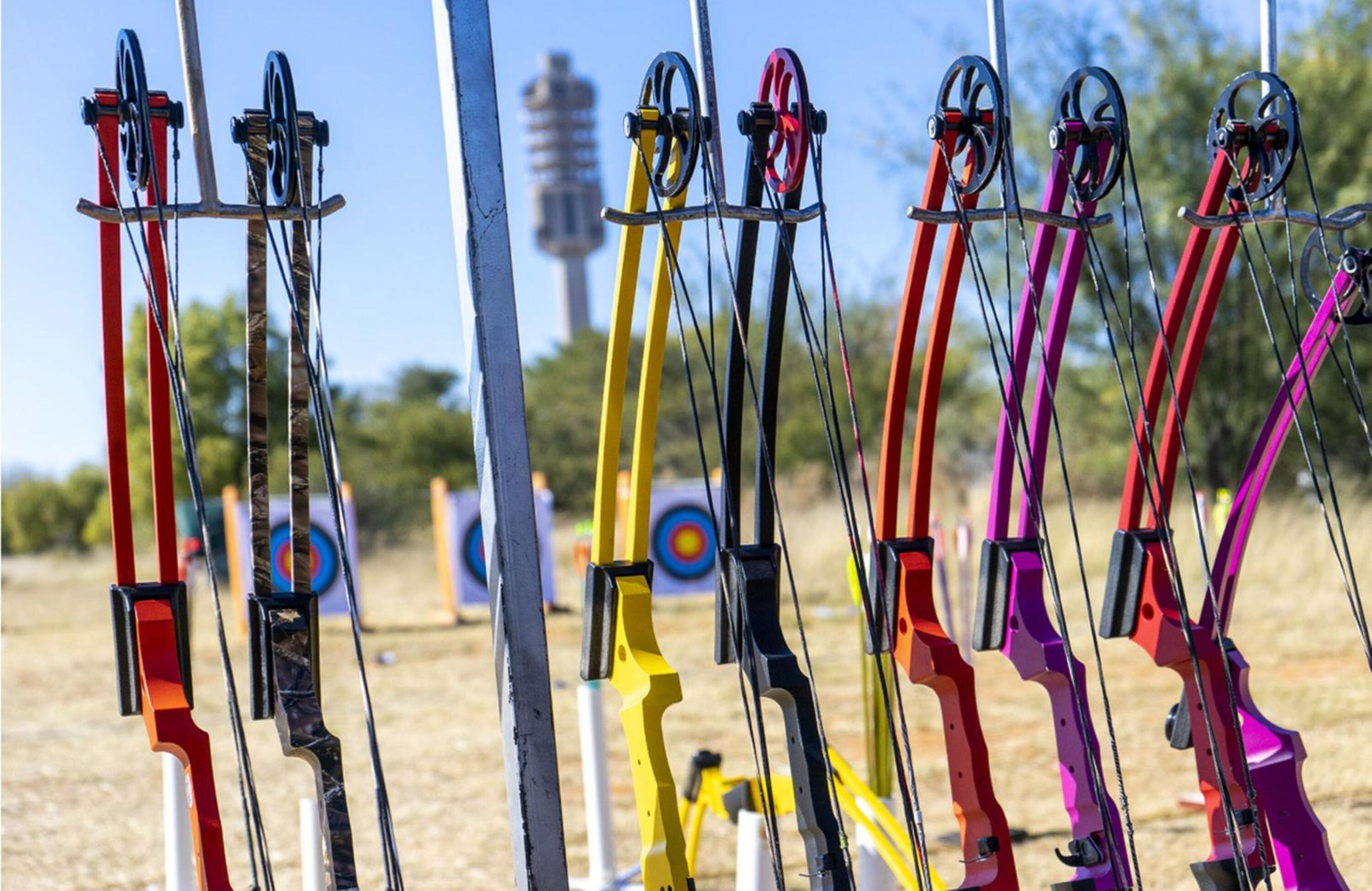 Even with all the generosity of the sponsors, funding close to R100,000 is still needed to cover some of the expenses of the event and organisers have sent out a call to any businesses in the city that want to get involved. Businesses who are able to help are welcome to contact the event organisers, Dawid de Greeff on 073-030-2909 or Schalk van der Merwe on 082-762-9838.
This event has, however, not materialised out of thin air. Recently, 47 archers from seven Northern Cape Schools, competed in the Northern Cape Inter-Schools Competition held at the Big Hole Driving Range. At this event 22 archers actually managed to improve their personal best scores.
Hennie Victor was in First place in the CUBS (Grade 2-3) category with a score of 285/300, which was the highest score of the day. Elrize de Greeff (276/300), a homeschooler came first in the Primary School Category, Nurah Isaacs ended up first in the High School section with an impressive 271/300, and Schalk van der Merwe's score of 274/300 got him a first place in the Adult Archers Category.
The Northern Cape has a rich archery history with the Bushmen having honed and perfected the art over many years. Hunting also contributes to a big capital injection for the Northern Cape annually. To this end, AGA NC and the Northern Cape Sport and Recreation Authority recently partnered and are working toward establishing and growing archery as an Official Sport of the Northern Cape.
Not only has the sport the potential to draw many visitors to our beautiful and diverse province, but the sport also empowers women, children, and people with disabilities, and offers an opportunity to those who don't fit the mould of other sports.
Archery is considered one of the safest Sports Globally and doesn't require great physical ability or a huge capital outlay to achieve success. The sport nurtures concentration, focus, self-control, self-discipline, endurance, respect, and many other positive character traits which build confidence and establish purpose.
For more information on how to get involved, please contact the AGA Northern Cape Co-ordinators by sending an e-mail to [email protected] or get in touch with event organisers De Greeff or Van der Merwe.