Playing against the Sharks in Durban is a different beast, especially at this time of the year, as it will be very humid and the ball will be very slippery.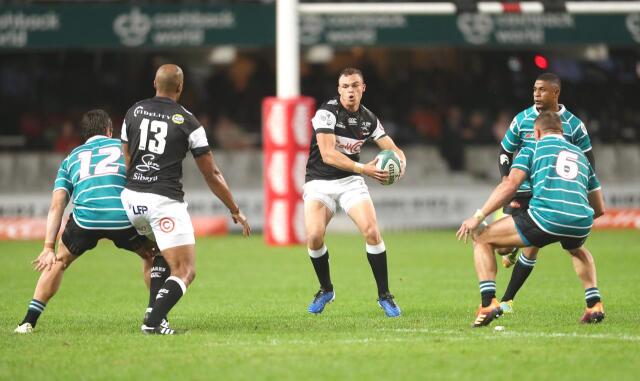 AFTER a disappointing outing last time out against Western Province at Newlands on Boxing day, the Tafel Lager Griquas will have to pick themselves up ahead of their trip to Durban for their sixth round Carling Currie Cup fixture against the Cell C Sharks on Saturday afternoon, kick-off at 4.30pm.
Griquas head coach Scott Mathie spoke to the DFA ahead of their departure to Durban and said the team was up for the challenge. "A trip to the Sharks on New Year … it's always great to play against another big union. We are looking forward to it after we were very hard done by in our last weekend fixture, where a lot of things went against us.
"But I am happy with the things we took from that game which were positives".
Mathie also said that the conditions in Durban in December will be far from ideal. "Playing against the Sharks in Durban is a different beast, especially at this time of the year, as it will be very humid and the ball will be very slippery. So it's important that we get our kicking game right, which will be the large majority of this game, where we will be focused around kicking, playing territory and making sure that when we do have the opportunity will be to attack and that we hold onto the ball.
"I think going through phases in their own half is important, and we can build pressure, either through penalties or try set pieces, when the ball is wet. Set piece becomes a big thing, so our scrums and line-outs need to function effectively and if we can get hold of that then we can get clarity in those areas, then it should develop into being a good battle"
Griquas will be hoping that things do not go against them like it did last week in Cape Town where in last week's game, Western Province were awarded two tries, due to some questionable refereeing and poor TMO decisions.
The first try came from an apparently blatant forward pass and the second when a Province player crawled 10 metres between the legs of the defenders. Neither of those two tries should have been awarded, according to some of the pundits on social media and from past Griqua rugby players.
In the end though, the 34-17 margin suggests that Griquas left a lot on the park in the form of some poor handling and ill-discipline and besides the two tries, that let the visitors down, especially in the first half where the hosts cantered into a 17-7 lead before halftime.
Griquas fought back hard in the second half, but some poor defensive work let them down, allowing Western Province to run in three more tries.
As for the questionable refereeing, Mathie was diplomatic in his response. "I think the TMO will have a lot to answer for in that regard, but will leave that for the refs to comment on, I think that they will agree with the rest of the public with regards to that," he said.
Mathie did, however, aslo look on the bright side of the Newlands outing. "I'm pleased with the way the guys battled on, with us not playing for two weeks, due to a bye and then also due to Covid-19 protocols in the Blue Bulls camp.
"There are bound to be some skill errors and I think that let us down a lot of the time. We also just made too many handling errors in the contact phases at crucial times. The scrum battle was always going to be tough, especially going against the Springbok front row, but I think they acquitted themselves quite well, given the opponents they were playing against, the front row."
Meanwhile, due to the amended level 3 lockdown rules the Currie Cup match between the Cheetahs and Western Province, which could have an important bearing on who the eventual semi-finalists will be, will now kick-off at 4.30pm instead of the initial time of 7pm on Saturday.
This change follows Tuesday's confirmation by the Department of Sport, Arts and Culture that professional sport may continue, as long as all matches are concluded by 8pm in adherence with the nationwide curfew that starts at 9pm.
Two matches on Saturday will now start at 4.30pm and both will be broadcast live on SuperSport.
The clash between the Cheetahs and Western Province in Bloemfontein will be on the SuperSport's Grandstand and Rugby channels (201 and 211), while the match between the Sharks and Griquas in Durban will play out on SuperSport's Action channel (210).
The game between the Pumas and Lions in Nelspruit will continue as scheduled at 2pm on Saturday and will be broadcast live on the SuperSport Grandstand and Rugby channels.
The Tafel Lager Griquas team to take on the Cell C Sharks is (15-1): James Verity-Amm, Eduan Keyter, Berton Klaasen, André Swarts, Enver Brandt, Tinus de Beer, Zak Burger (captain), Johan Momsen, Stefan Willemse, Gideon van der Merwe, Cameron Lindsay, Ewan Coetzee, John-Roy Jenkinson, Alandré van Rooyen, Andrew Beerwinkel. Bench (16-25): CJ Conradie, Mox Mxoli, Tijde Visser, Adre Smith, Siba Qoma, Ashlon Davids, Johnathan Francke, Daniel Kasende, Bandisa Ndlovu, Raegan Oranje.