It seems like this black, green and brown long-sleeved shirt is Jacob Zuma's new favourite tea-shirt.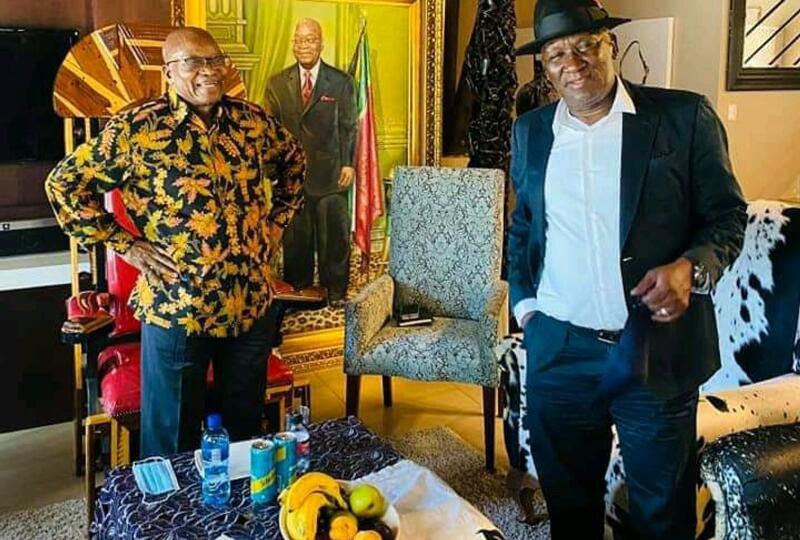 DURBAN – Does Jacob Zuma have a favourite piece of clothing? Well, we think so – and we have the evidence to back up our theory.
During his meeting with Police Minister Bheki Cele today, we spotted Zuma looking sharp in a black long-sleeve shirt with green and brown leaves, and black pants. While we don't have all the details of today's meeting, we believe it could be due to Zuma's refusal to appear before the Zondo Commission.
Zuma's spokesperson Vukile Mathabela did not respond when asked whether it was an official meeting.
But when pictures of the meeting between Zuma and Cele appeared on social media, we knew there was something oddly familiar about the former president's outfit.
Scroll back a few days and you'll remember Zuma's "tea party" with EFF leader Julius Malema that left many people confused about why Malema would want to have a sit down with Zuma, especially after the #ZuptaMustFall and #PayBackTheMoney rhetoric previously spouted by the EFF.
In pictures of their get-together, you can see Zuma wearing that shirt again.
Social media users also noticed that he was seen wearing the same shirt during a meeting with Cassper Nyovest (real name Refiloe Maele Phoolo). Apparently that meeting took place on Monday.
IOL