Charles Parsons says that it is by the grace of God that none of his 38 staff members have had to be retrenched during the Covid-19 pandemic.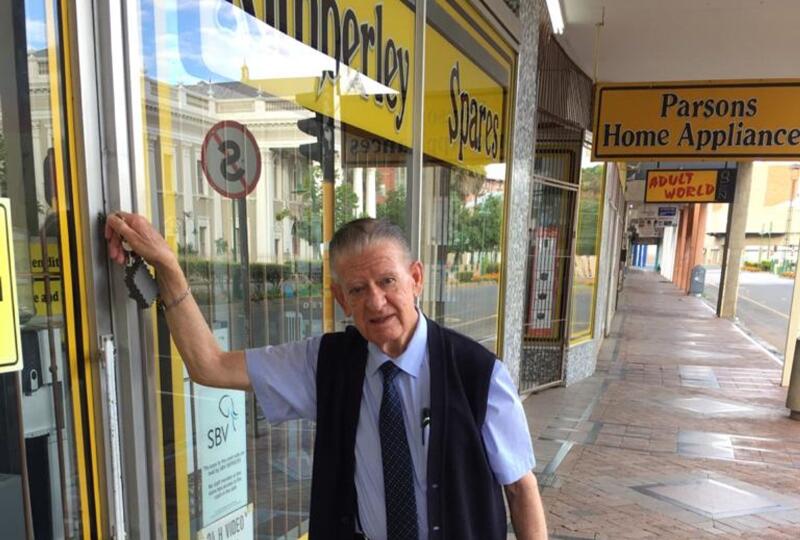 WELL-known Kimberley businessman Charles James Parsons, the owner of Parsons Home Appliances, was proud to celebrate his 82nd birthday recently by opening the doors to his store in the CBD once more.
Parsons, who turned 82 on January 9, prides himself for being the person who has opened the doors to his family business over the past 39 years.
He has worked at the store for 59 years, the first 20 years were spent under his predecessor Poddy Shein, who later sold the business to him.
"I have always been here to personally open these front doors at 8am every morning from Monday to Saturday," said a proud Parsons on Thursday.
He added that sometimes his "dedicated" staff would accompany him.
Parsons said on Thursday that it was through the grace of God that the business has so far survived the Covid-19 pandemic without any of his 38 staff members having to be retrenched.
He admitted, however, that times have been tough due to the lockdown which started at the end of March last year.
"But the entire team took a positive stand and we have survived thus far. Luckily none of our staff members have suffered financially, and none have lost their jobs.
"We have survived with keeping all our 38 staff members that we have had for years thus far."
He did, however, express concern about the future of the business if the current amended Level 3 lockdown regulations continue.
Parsons started the family business, when it was still in Bean Street, in 1982 and bought out the spares and service department. The business later moved to the Market Square, where it is currently located.
He said that he saw the opportunity, and grabbed it with both hands, when Poddy
Shein wanted to sell his business, which was then called Poddy Shein (Pty) Ltd.
According to Parsons, he started working at KEW in 1956, but was later boarded by the company due to an injury he sustained.
He went on to work at Havana House in Jones Street, where he met Shein, who was at that stage the manager of the Raichmans store in the Market Square.
"I joined Shein in 1962 after he started his own business, which resulted in me buying it," Parsons says.
He said that, currently, he and his staff are trying to keep positive through the latest lockdown and are concentrating on giving the best service to their customers.
"We, however, don't know what to expect yet, due to the battles of getting enough stock on time for the warehouse," said Parsons.