Applications for unemployment grant also opens.
SELECTED offices of the South African Social Security Agency (Sassa) opened today to coincide with the opening of applications for the Social Relief of Distress Grant.
Sassa offices have been closed since the lockdown began in March.
In response to the Covid-19 pandemic, President Cyril Ramaphosa recently announced a Special Covid-19 Social Relief of Distress Grant or Unemployment Grant.  
Sassa is charged with the administration and disbursement of this temporary Covid-19 relief grant.  
The grant will be for a period of six months (May to October 2020) only, and is meant to provide social relief to the unemployed of the country.
"There are thousands of individuals who applied for this grant during the testing phase using 0600 123 456. Although Sassa now has a new number, all those who participated during the test phase will be considered as applicants and the qualifying criteria will be used," Inno Khunou, Northern Cape Sassa spokesperson, said on Monday.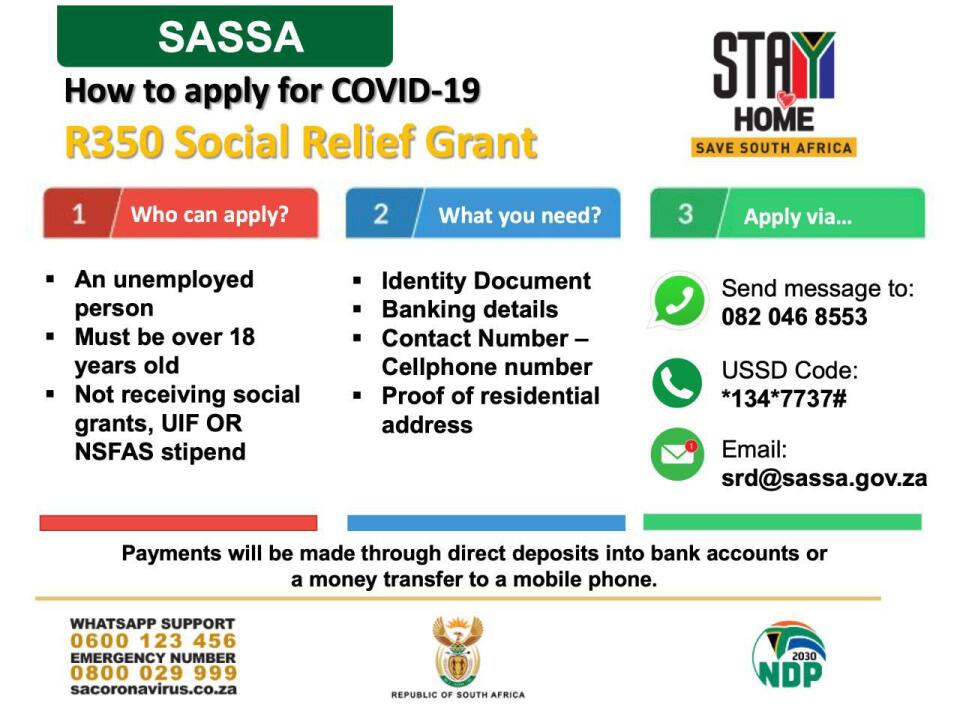 She added that the WhatsApp, and related electronic application options, were ready for applicants to start applying.
Applicants can either send a WhatsApp message to 082 046 8553, an e-mail to [email protected] or they can SMS *134*7737# 
Khunou added that volunteers and community development workers would also be deployed to assist those who have no access to technology with their applications. 
"Manual applications will not be done at Sassa offices at all and there will be no need to fill in paper application forms."
The qualification criteria which will be used for this Covid-19 grant of R350 include:Individuals who are South African citizens, permanent residents or refugees registered on the Home Affairs database; currently residing within the borders of the Republic of South Africa; above the age of 18; unemployed; not receiving any form of income; not receiving any social grant; not receiving an unemployment insurance benefit and do not qualify to receive an unemployment insurance benefit; not receiving a stipend from the National Student Financial Aid Scheme and other financial aid; not receiving any other government Covid-19 response support; and not a resident in a government funded or subsidised institution.
"Applicants are advised not to provide their banking details to anyone to avoid scams. The only time Sasaa will request information is when the application has been approved," Khunou warned. "All beneficiaries and applicants should never give their PIN number or the CVV number on the back of the banking card to anyone – not even Sassa. Once applications are approved, Sassa will request confirmation of bank accounts through a secure site – this will also be done electronically.  Applicants have the right to request confirmation that a request is from Sassa in order to protect themselves." 
She added that Sassa reserved the right to validate the information provided by applicants with other public and private databases to prevent misrepresentation and potential fraud. "Applicants will be required to agree with this condition in order for their applications to be processed." 
Applicants will be disqualified if they are receiving grants in their households and the Sassa Socpen system will be used to screen those; those entitled to the unemployment insurance fund (UIF); those receiving any form of income including pensions checked against Sars and the banks; National Student Financial Aid Scheme (NSFAS); small business owners supported through department of small business development; as are any persons in a State-funded institution like prisons, shelters, facilities, etc.
Khunou added further that during Level 4 of the lockdown, Sassa would reopen certain of its offices where a risk-adjusted approach would be adopted to re-introduce services at local office level. 
"Only a third of employees will return to work – meaning limited services will be offered. The number of beneficiaries served at local offices will be very limited, to ensure social distancing and general compliance with the Disaster Management Act regulations during this Covid-19 period and as will be announced at ensuing levels."
Sassa local offices will be attending to specific grants on specific days only: 
Monday and Tuesday: Grants for older persons (Old Age Grants); 
Wednesday and Thursday: Child Support and Foster Child Grants;
Friday: Administration for staff to attend to matters that flow over from the previous days.
"Under lockdown Level 4 no disability, care dependency grants or grant-in-aid applications will be taken, as access to health facilities is restricted to emergency cases and Covid-19 cases only. This means that no medical assessments, which is a legislated requirement prior to an application for these grant types, can be undertaken."
To assist beneficiaries, Sassa has put measures in place to ensure that temporary disability grants that lapsed in February and March 2020 must be reinstated and continue to be paid from the date they were suspended until end of October 2020; temporary disability grants that are due to lapse in May 2020 and June 2020 must continue to be paid until end of October 2020; care dependency and foster care grants that lapsed during the period beginning from February 2020 to April 2020 must be reinstated and continue to be paid until end of October 2020; care dependency and foster care grants that lapsed during May 2020 or are due to lapse when the care dependency child turns 18 years of age, will not lapse until the end of October 2020 and must continue to be paid until end of October 2020.
"Beneficiaries are assured that social grants will continue to be paid as usual," Khunou added.  
"Needless to say, our services must at all times adhere to the social assistance legislation and regulations, importantly, the current disaster regulations and pronouncements of the president and his Cabinet, especially during the Covid-19 lockdown. All these measures are implemented to also protect Sassa staff while assisting the citizens needing some relief. 
"For any Sassa related enquiries about grants, the 0800 003 077 is the number to call at no charge," concluded Khunou.