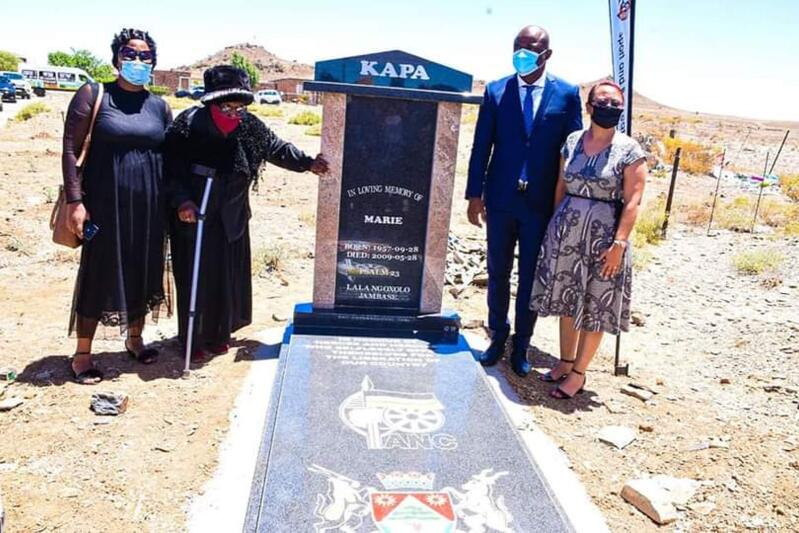 FOUR tombstones of the Kapa and Mthini families were unveiled by Northern Cape Premier Dr Zamani Saul in Lukhanyisweni, Philipstown as part of the Province's Day of Reconciliation celebrations on Wednesday.
Saul said the four Struggle heroes – Zimoshile Willem Kapa, Roselina Nontombi Kapa, Jan Kapa and Maria Ntombizodwa Mthini – were instrumental in the fight against apartheid in the area.
"Provincial government commemorates and celebrates those who made sacrifices in the attainment of freedom for many. We are here today as a result of the sacrifices made by these Struggle heroes, sacrifices that did not come without a price," said Saul.
He pointed out that Freedom Square in Philipstown had been a convergence point of confrontations between the community and the apartheid police.
Saul said the tombstone unveiling ceremony was to ensure that all fallen heroes and heroines receive a dignified ceremony as well as to promote social cohesion and nation building.
He added that Wednesday coincided with the 59th anniversary of Umkhonto we Sizwe, the ANC's military wing that was founded in 1961.
Responding to service delivery issues that were raised by the community during recent engagements, Saul promised the community that a new ambulance and clinic bakkie would be delivered to provide services in the area in the near future.
He added that the renovation to the community clinic was scheduled to be launched in February next year.
"The launch of the final phase of the housing project is set for March 2021 and improvements to the community hall will also be undertaken next year."