Three city women to climb Mount Kilimanjaro in support of the fight against gender-based violence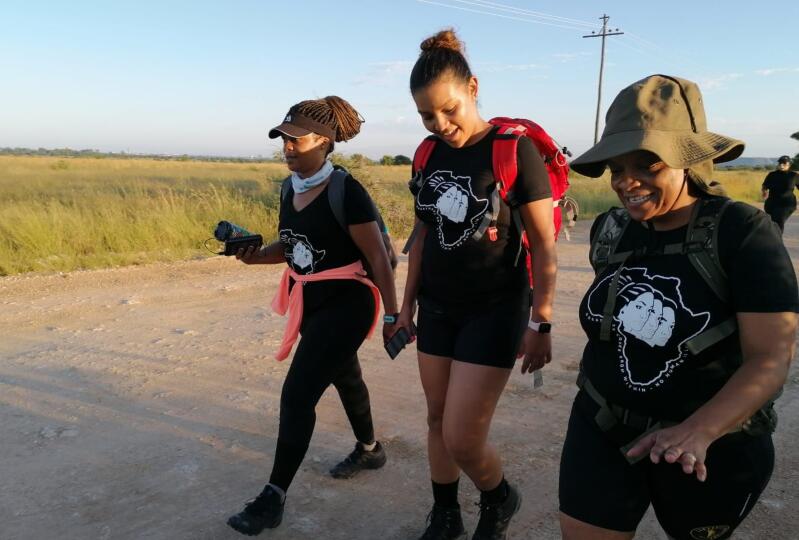 THREE local women, Karabelo Mojanaga, Dineo Khumalo and Carey Moraladi, are set to embark on a trip to climb the great Mount Kilimanjaro, from March 1 to 10, in support of the fight against gender-based violence (GBV).
Moraladi and Khumalo are sisters and Mojanaga is a friend of theirs.
They are scheduled to climb Kilimanjaro over six days and spend a seventh day to make their way down.
The proceeds raised by the initiative will be donated to a social programme and a corporate programme.
The social programme is aimed at assisting women and children who are victims of GBV.
The beneficiaries of the social programme will be Kimberley-based NGOs Thuthuzela and Women to Women.
The women have printed T-shirts for sale and the proceeds are expected to be handed over before they board their flight to Tanzania.
Thuthuzela is a government-funded initiative that assists GBV victims with counselling and support, while Women to Women is self-funded and serves as a shelter for victims of GBV.
The corporate programme is in support of cancer. The trio hope to make a difference by saving the Kimberley Cansa office which is believed to be on the verge of closure.
They have called on corporates to pledge R100 and upwards for each one of them, for every 100km of their climb.
The women told the DFA on Friday that they refuse to be discouraged by any negativity, even though some family members and friends fear for their safety.
"We are all overwhelmed and know that there is no stopping us and no turning back," they said.
The trio said that they have put in a lot of physical training and "financial preparation" ahead of the initiative.
Moraladi pointed out that everything has been self-funded and that they started to fully prepare for their great climb in June 2020.
"We are nervous but also excited … and we will also be helping others through this initiative," said Moraladi.
Mojanaga said that the trip is not only about their individual experience but to also "prove" and remind women of their resilience.
"We are aware that we are doing something unusual as the first women in the Province to embark on this initiative. We also understand that many people are concerned about our safety. We want to encourage women that greatness comes from within and that no human is limited," said Mojanaga.
According to Mojanaga, the idea was started by Khumalo in 2015 after they attended a Seta conference where adventurer Sibusiso Vilane was the motivational speaker.
"Although we have both been active in sports and embarked on several hiking trips before, I was not so keen on the idea, but she kept on pushing. Two years later we managed to rope in her sister, Moraladi, who is a well-known adrenaline junkie," said Mojanaga.
"I expect this trip will definitely help me overcome my fear of heights, which I have always battled with," she added with a smile.
"I am confident that Khumalo and Moraladi are the relevant support I need, with their past experiences. Khumalo has been by my side during what we can describe as the most challenging hiking trips, while Moraladi has experienced the most adventurous activities like bungee jumping and more," she laughed.
Khumalo said that their father did not approve of the trip but they had proved that nothing could stop them.
"In life one overcomes challenges, especially us women. We have been confined for too long over the years. Metaphorically we climb a lot of mountains – be that emotionally, psychologically and physically. We need mental strength at all times," said Khumalo.