The multidisciplinary operation centred around compliance with the law and Covid-19 regulations and the securing of South African waters, coastlines and maritime zones.
A NUMBER of arrests were made over the weekend on charges of being in possession of drugs, drinking in public and drunk driving, while fines were issued for persons in possession of West Cape rock lobsters without a permit, during the police's Operation Phakisa, which was conducted in Port Nolloth, Kleinzee, Hondeklipbaai and Groenrivier over three days.
Northern Cape police spokesperson Colonel Mashay Gamieldien said on Sunday that the operation centred around compliance and the securing of South African waters, coastlines and maritime zones.
"The operations also focused on the current Covid-19 mitigation efforts to secure the sea borderline and to ensure the safety and security of South African citizens," said Gamieldien.
"An integrated, multidisciplinary approach was followed by Port Nolloth SAPS, Springbok VCIU, Upington Water Wing, Provincial Border Police, Kimberley Airwing, Provincial Operational Co-ordination, Provincial Operational Response, Namakwa Crime intelligence, Provincial Corporate Communication, Springbok K9, Springbok POPS, SARS Customs, the Department of Environment, Forestry and Fisheries, SANParks, the Department of Environmental Affairs and Nature Conservation and the Department of Home Affairs to address illegal activities."
She added that inspections were conducted at local businesses, mining areas and construction sites, focusing on illegal immigrants, and visits were made to harbour, ports, launching sites and docking bays, with a focus on illegal harvesting and recreational fishing.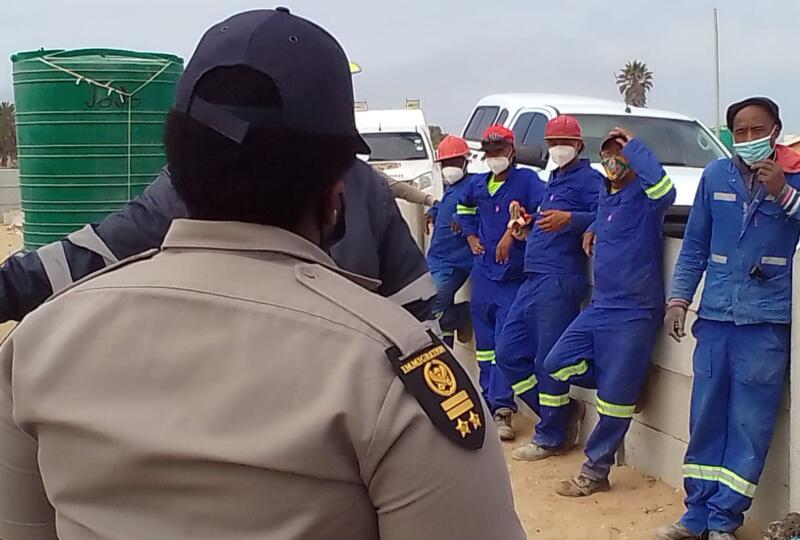 Gamieldien stated that during the three-day operation drugs, including mandrax, tik and dagga, were confiscated at vehicle checkpoints that were set up on the Alexander Bay/Port Nolloth road and the intersection between Steinkopf and Kleinzee.
She indicated that two persons were arrested for being in possession of drugs, five people were arrested for drinking in public, one person was issued with a traffic fine amounting to R1,400 and one person was arrested for drunk driving.
"Two wanted suspects were arrested on warrants of arrest for housebreaking and theft. Three fines were also issued for possession of West Coast rock lobsters without a permit – amounting to R5,500," said Gamieldien.
She said counterfeit cigarettes and Afzal hookah flavours valued at R5,485 were confiscated by SARS customs officials.
The acting provincial commissioner, Major-General Phiwe Mnguni, warned that the police in the Province would intensify their fight against crime over the festive season.
"It is common knowledge that during this period there is an increase in the movement of people in the Province, an increase in festive activities and holiday entertainment and an increase in traffic in shopping centres that result in a spike in crime."