They are frustrated by the water leaks from burst pipes, potholes, overgrown veld and a manhole which constantly blocks causing several backyards to be flooded with raw sewage.
THE Florianville (Floors) community are frustrated after all their calls and complaints with regards to service delivery are falling on deaf ears and are being ignored by Sol Plaatjie Municipality.
They are frustrated by the water leaks from burst pipes, potholes, overgrown veld and a manhole which constantly blocks causing several backyards to be flooded with raw sewage.
For 10 years, every two to three weeks residents in Vaalbos Road have to call the municipality to unblock a manhole situated on the corner of Community and Vaalbos Road as their backyards become inaccessible due to the raw sewage flooding the area. An elderly resident, Sandra Bezuidenhoud, lives on her own and says that the smell permeates the air for weeks after the drain has been unblocked. "When we call the municipality to come out it takes them three to five days to unblock the manhole', a visibly upset Bezuidenhoud said. "Are we supposed to accept the fate we are dealt, surely a permanent solution can be found."
Elvona Tafel, who has had a stroke and suffered some brain damage explains that she takes care of her elderly mom, who has a colostomy bag and needs a clean environment so as not to cause any infection. Her mom has to sit in the stench as there is no-one else to take care of her. "How can we live like this? Every two weeks my backyard is flooded and when the manhole is unblocked the ground is wet with toilet paper and raw faeces, the smell is unbearable.''
"We need sand to raise the areas where it floods and we have never been provided with sand or chlorine for the ten years I have been living here. I have to put a bag filled with sand at my back door just to prevent the sewage from seeping into my house, Tafel said.
Another neighbour added that her daughter and granddaughter live in a shanty in the back of her yard and for several days every other week they are unable to enter the shanty. "I fear my five-year-old granddaughter will get sick. The ground is contaminated and she questions who will pay medical bills should someone become ill. We have asked for sand and that the area be covered with chlorine but the municipality has never assisted us with anything even though they come out all the time, she added.
Angie Amsterdam, 82, living in Karee Road, stated that the Floors is being neglected by the Sol Plaatje municipality. She stated that she has made numerous calls to the municipality to repair the water leak in front of her home,. "It is a total mess, the water has been running for about a year", she said. "Our water pipes are leaking and the road consists of more potholes than road," Amsterdam added. "So after a year, all the call centre tells me is that someone will come out, I'm still waiting", said a frustrated Amsterdam. She said that she has not been the only one calling the call centre as the neighbours are also fed up with the mess the running water causes in Karee Road. "I have fallen thrice while I was trying to jump over the puddles of water in front of my house. What more should I do? Slip and break my hip perhaps, will they come out then,'' concluded Amsterdam.
Another infuriated resident, Joan Abrahams, said that Karee Road is the main road in the area and often watches how taxis and other vehicles have to navigate around the water-filled potholes and drive on the pavement. "I don't understand why Cypress Road has been paved but not Karee Road as it is one long stretch of road," Abrahams said. "School children from both Endeavour Primary School and William Pescod High School utilise the road to get to their homes, but with vehicles forced to drive on the pavements it's a disaster waiting to happen,'' said Abrahams.
She stated that she called the municipality regarding the potholes but to date not a single person has come out. Abrahams added that she has seen on social media that in Riviera a resident complained about a burst pipe and the same day it was fixed. ''Are we 'living on the wrong side of the railway line as they say?'' she asked
A resident living next to the overgrown veld said she has pleaded with the municipality to clean the area as it is a health and safety hazard for residents. "People smoke marijuana in the veld and I fear for the children and elderly who have to walk through the veld. Someone even set the veld alight and embers were flying everywhere and settled on my washing which was still hanging on the line.
The leaking pipes in Bloubos and Recreation Road have also been reported several times by community members who are already so fed up that no-one has come out to repair the leaking pipes.
Thoko Riet, municipal spokesperson said that as a municipality they treat all residents equally and that they deliver a service for everyone. "Our staff are our front line ambassadors for the municipality and it is expected that they play that important role in rendering quality services to the residents , " Riet said.
"With the recent heavy rains we had much backlog of overgrown grass and our teams are busy clearing access roads. Once they have completed clearing the access roads, a team will be sent out to assess the veld and only thereafter we would be able to dispatch a team to clear the area, she added.
Riet stated that the complaint as to why the water leaks in Bloubos and Karee Road have not been seen to sooner will be investigated. "We plead with residents to lodge complaints directly to the Call Centre at 053-830 6111, as a reference number will be issued which assists us in tracing the enquiry and not to phone the department directly," she said.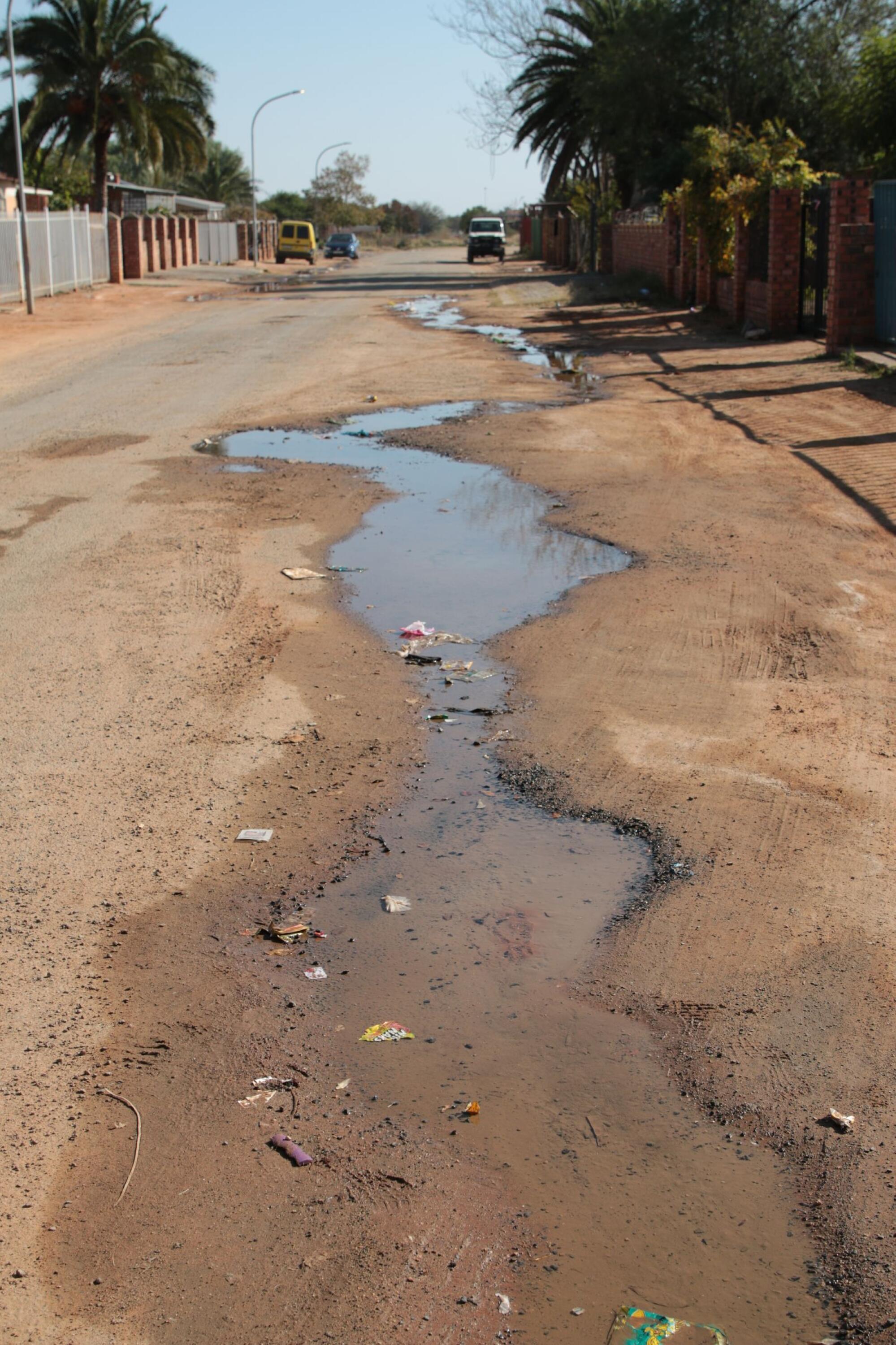 "Our team from sanitation was out to Community Road again on Tuesday on a callout regarding the immense flooding of a sewer in the said area. Also as households increase, the more quicker and fuller the manhole becomes. When we made an assessment, we saw that it emanates from the manhole in Community Road, on investigation it was eminent that the manhole had a lot of foreign objects inside, which causes constant blockages and flooding into yards. Foreign objects like nappy's, human hair and in most instances stones have been found, which makes it difficult to unblock as the stones needs to be removed first and at most times they are lying right at the bottom of the manhole. We have since unblocked the manhole, and we will monitor it continuously. We also plead with residents not to throw foreign objects into manholes as they also lead to blockages, Riet concluded.