The DFA's Danie van der Lith spoke to Francois 'Rooies' de Bruin, trying to find out the reasons why he is hanging up his officiating kit while still in his prime.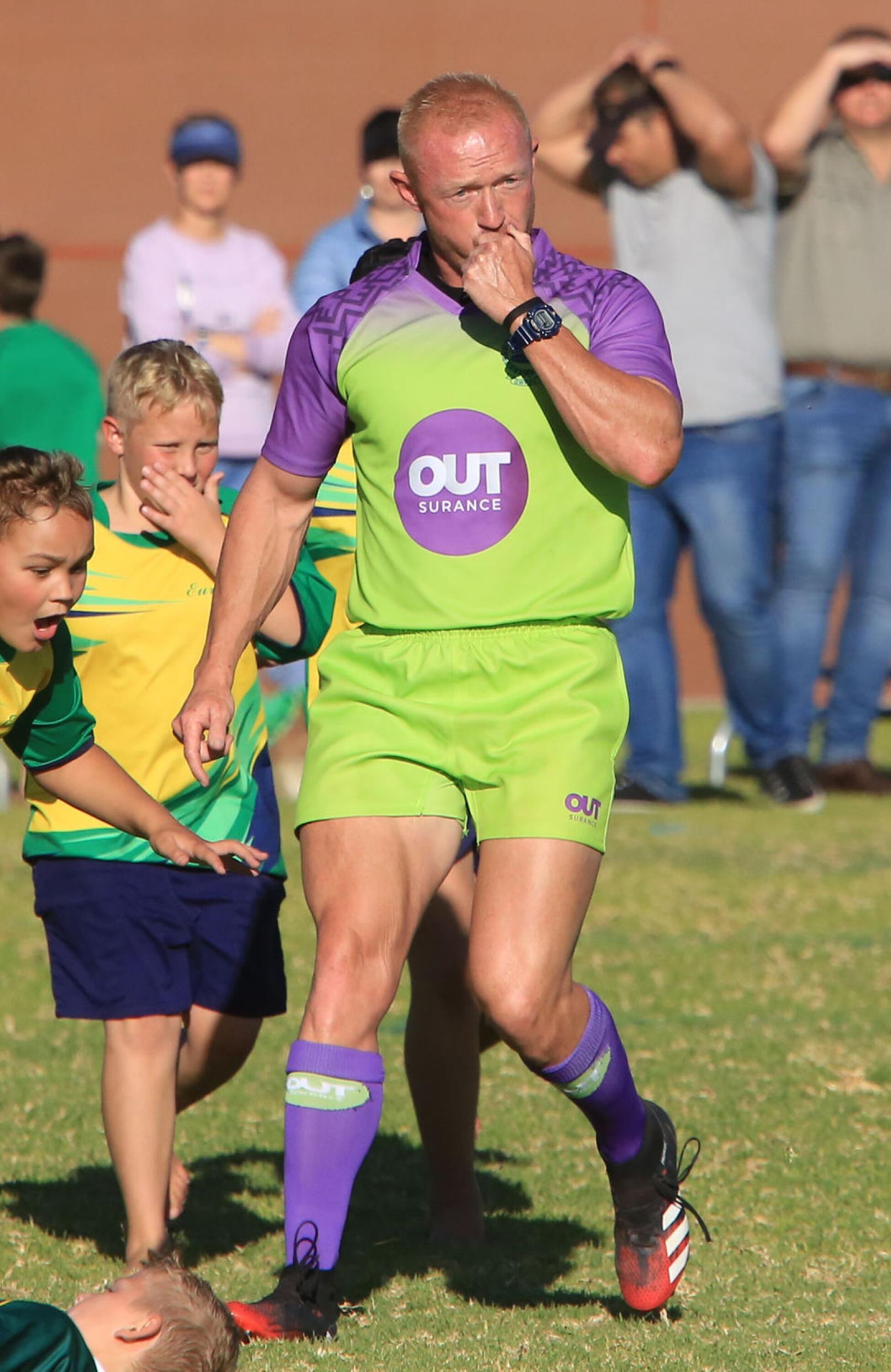 EVERYONE probably knows the old school playground saying: "Sticks and stones may break my bones, but words will never harm me". But how true is that adage really? This past week, I once again learned that words can really hurt.
Bear with me while I explain.
If you love watching local club and schools rugby, you will have definitely seen Francois "Rooies" de Bruin, a registered South African referee, either blowing the whistle or patrolling the touchline with flag in hand.
Rooies started his schooling at what was then HF Verwoerd Primary School and finished his high school career at Adamantia.
He readily admits that he wasn't always the best rugby player, but he always loved the game.
His love for officiating started at an early age, around the fourth or fifth grade, when he one day saw a flag lying next to a rugby field. He picked it up and told the coach that he was going to flag the game … and nobody was going to tell him 'no'.
"At that time, Uncle Kat Swanepoel (chairman of the Griqualand West Referees' Association) and Uncle Oubaas Wagner were standing next to the field," Rooies says. "After the game, they told me that I should enrol (as an official) because they could see that it looks like I know what I'm doing and love what I'm doing."
When he was in Grade 11, in 2002, Rooies joined the Griqualand West Referees' Association. "That's when it all really started to take shape for me," he says. "I loved it so much and had a burning fire in me, while my peers were motivating me to continue because they saw the potential I had."
It was at this time, as a schoolboy, that he was asked to referee a club rugby game.
"I had to blow for these big uncles that I would usually call 'Oom'," he says. "I was told that I blew a good game and so I continued. I joined the South African Panel of Referees in 2007.
WELCOME TO THE BIG TIME
"Then there was flagging and blowing for the Vodacom Cup, Under-19 weeks and many other games. The first game that I blew on live television was between the Bulls and Leopards Under-19 teams at Loftus Versfeld (in Pretoria). I was an assistant referee for more than 40 Super 15 games, for teams like the Blues, Hurricanes, Reds, Highlanders, as well as the All Blacks.
"I have met all the big names, like Richie McCaw, Israel Dagg, and all those big players. I assisted referees like Jonathan Kaplan, Jaco Peyper, Mark Lawrence and Marius Jonker."
But despite the passion and credentials like these, the cloud has turned very dark for Rooies.
Last Saturday, Rooies decided to hang up his officiating kit once and for all.
I was a bit surprised to hear about his plans to retire, so I asked Rooies what was behind this seemingly premature decision.
The answer was brief … "the heckling".
As a media photographer, I see and hear a lot of heckling at sports matches. Some taunts are not so bad, just people blowing off steam, but some things that are said are totally unacceptable.
It is sad for me, as a parent, to see other parents standing next to a school sports field, with their children by their side, screaming insulting and vulgar words at match officials; ultimately showing their children that it is acceptable to shout vulgarities at referees.
Rooies explains: "Officiating was not always easy. There are hundreds of referees around the country, and for us being heckled from the sideline or the stands is normal and part of the game. You hear the heckling, but it is never personal."
IT IS PERSONAL
"During those big games (away from Kimberley), you will never get someone coming onto the field and personally attacking you, your wife, and your kids, because nobody really knows you. Unfortunately, Kimberley is a very small town, and a lot of people know me.
"They know I am a sergeant in the South African Police Service, working for Search and Rescue, and think: 'Because I know Rooies and because he gave my child a yellow card, I have the right to personally attack him'.
"You then get people who will deliberately bump into you with their shoulder, or grab you by the chest, look you in the eye and tell you that 'you blew this game like a real p***', and tell you that you are a 'sly referee'."
Rooies told me that such accusations are extremely hurtful. "I have integrity, and I am able to look anybody straight in the eyes while saying that."
He told me that an experienced referee makes on-the-spot decisions in the interest of the game, decisions that not everyone understands.
"I understand that a parent sees something from the side and wants me to blow that mistake, but it is all about balance. If the infringement would not have had any effect on the game, I let the game flow."
Rooies added that he was open to honest criticism. "After the game, you have the right to come to me and say that you feel that I made mistakes here and there. Then we can talk about it. But you don't have the right to say, for example, that you wish my mother had miscarried at birth because I am – pardon the language – 'a blind p***'.
THE LAST STRAW
But what was the final straw for Rooies?
"Last Friday, my mother passed away, and I had the privilege of being with her and saying my final goodbye," he told me. "I announced her death on Facebook, saying that she is loved and will be missed.
"The next day, during a club game between Douglas and Kimberley Rugby Club, someone from the crowd shouted: 'You can be glad your mother is dead, because now she can't see how s*** you are blowing!'
"I turned around and saw everybody in that group laughing while drinking next to the field. That really left a deep scar.
"The comment from that game was the final blow that extinguished the last bit of flame that I had left, and turned it into a cloud of black smoke."
LIKE A LAMB TO THE SLAUGHTER
Rooies also told me that the stress had been building up for a long time.
"I felt as if I was walking into an abattoir every time I blew at two specific high schools in town," Rooies says. "I walked in and had my throat slit most of the time.
"It's unfortunate that people in my own town can get so personal and extinguish the fire and love I had for what I was doing.
"So, after 20 years, I have decided to put my whistle in my pocket for the last time and hang up my boots.
"During the last 20 years, I have made so many friends … but also enemies.
"However, my love for the game will never die. My door is always open to any aspiring referee that needs advice or any training related to the game. I will always be willing to share my experience with them to develop the sport further. So, as of today, I say 'prrrrrt', the game is over, the lights are out, and the field is empty," he says soberly.
As I said earlier, in my experience as a media photographer, seeing parents being vulgar and insulting towards a referee, and then seeing children doing exactly the same thing, turns my stomach.
THE CHILDREN ARE WATCHING
Children look up to their parents; they are their heroes, and they will mirror those heroes. My suggestion … Before you stand next to a field spewing profanities, remember that your children will mirror you in everything you do.
I read a quote a while ago. It went, "Sticks and stones may break bones, but words can shatter souls". And speaking to Rooies de Bruin, I realised that words can hurt someone so badly that they can take something away from that person, something that they truly loved.