One thing Stella Lai Quan San still enjoys and never misses is when her great-grandson, Protea opening batsman Reeza Hendriks, plays.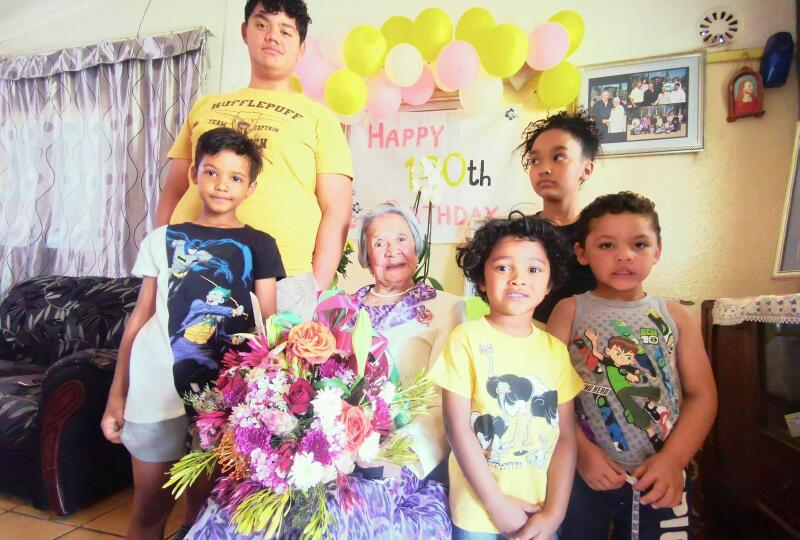 HER PHILOSOPHY that "variety is the spice of life" has not only helped Stella Lai Quan San reach the remarkable age of 100 years, but also added some spice to her journey.
Ouma Stella, who was born on October 19, 1920 in the Kimberley Malay Camp, has a mischievous twinkle in her eye and laughs heartily when she recalls her life's journey.
Currently living with Ingrid Jacobs, the daughter of another well-known Kimberley family and close family friends, Ouma Stella remembers how her family were removed from the Malay Camp in 1949 as a result of South Africa's notorious Group Areas Act.
"They put my mother out of her own house which was where the Civic Centre is today – close to the statue of Rhodes on his horse. They offered her 200 pounds, which was a lot of money then, if we agreed to move to Floors. My mother didn't want to accept the offer but the walls of our house were badly damaged so she agreed. At the end of the day, however, she never got all that money."
Ouma Stella chuckles as she tells us that married life, while it bore her five children, two are still alive today, was not for her. "It was better for me to be free – variety is the spice of life," she adds. "This is what has kept me going and kept me broad-minded."
Remembering back on her 100 years, Lai (as she insists on being called) says she had a good life. "The worst part was the Group Areas Act and the Immorality Act because it separated families and kept them apart. People who were fair-skinned were treated as white, while other family members were sent to live in coloured or black areas. It wasn't easy to be separated from one's family and not be allowed to see or visit each other."
Her father was a Cantonese national from mainland China and Ouma Stella remembers that Chinese nationals, who while not considered white, often enjoyed the privileges reserved for whites.
"I remember once I was in the Kimberley Hospital but they wouldn't allow my mother in because I was in the white section. It was very hard."
She also recalls the Great Depression in Kimberley. "There was no money or jobs and we had to queue for a cup of yellow mealie rice. Those were not easy times. When the Second World War broke out, I was fortunate enough to get a job at the ammunition factory in Kimberley, which was situated in the Mint Village and is where the name of the suburb came from. We would help make bullets for the war and our pay was five pounds a month."
After the war, the ammunition factory was closed, and Ouma Stella, a fine seamstress, was fortunate to be one of the first people to be employed at Jaff and Co.
She worked there for six years, before moving to Johannesburg where her husband at the time, also a Cantonese, owned a restaurant called Little Swallow.
It was during this time that she developed her culinary skills and even today her family pesters her regularly for her famous dishes, like smoked duck and sweet and sour pork.
"They make Chinese food but it is not real Chinese food," Ouma Stella laughs. "It is 'coloured Chinese' – they think if they put a bit of Chinese sauce in then it becomes Chinese food."
Mentally as sharp as a pin, Ouma Stella makes a point of always knowing the day, date and time. "There isn't a clock or a calendar in this house but I make sure I keep track of the days and the dates. I like my mind to be sharp at all times."
She remembers too, at the drop of a hat, the names and birthdays of each of her 17 grandchildren, 40 great-grandchildren and 16 great-great-grandchildren.
Her real passion, however, is sport. "I love sport. I remember when Kaizer Chiefs used to play on the red sand."
Nowadays she remains glued to the television set. "I don't like these soapies that everyone else watches. I just like sport."
And the one thing she never misses watching is when her great-grandson, Protea opening batsman Reeza Hendriks, plays.
"No matter what time he plays in the world, she is always in front of the TV, making sure she doesn't miss a thing," her family comments.
"I reared that boy," Ouma Stella adds. "Up until today we are still very close. When he got married, he made sure I was there. He was more worried about me than his bride," she jokes.
The sporting genes run deep in the family and Ouma Stella is also grandmother to Dr Yusuf Hassan, the team doctor of the Springboks at the 2007 Rugby World Cup.
While her birthday was on Monday this week and Ouma Stella was dressed for the occasion and the house adorned with balloons, flowers and banners, the real party will take place on Saturday, when her two sons, Colin, who is a Bishop in the Assemblies of God Church in Durban and a well-known international speaker, and Graham, who lives in Cape Town, will join the festivities in Kimberley.
"It's this virus," she says. "We can't have too many people at once."
Unfortunately, Reeza will not be able to attend but Ouma Stella will make sure that she doesn't miss out on the fun on Saturday – and to prove that she knows how to have fun, the Jacobs' family show a video of this centenarian swinging and laughing with the young children in the yard outside.