Minister of Police conducting a Safer Festive Season inspection tour of the Northern Cape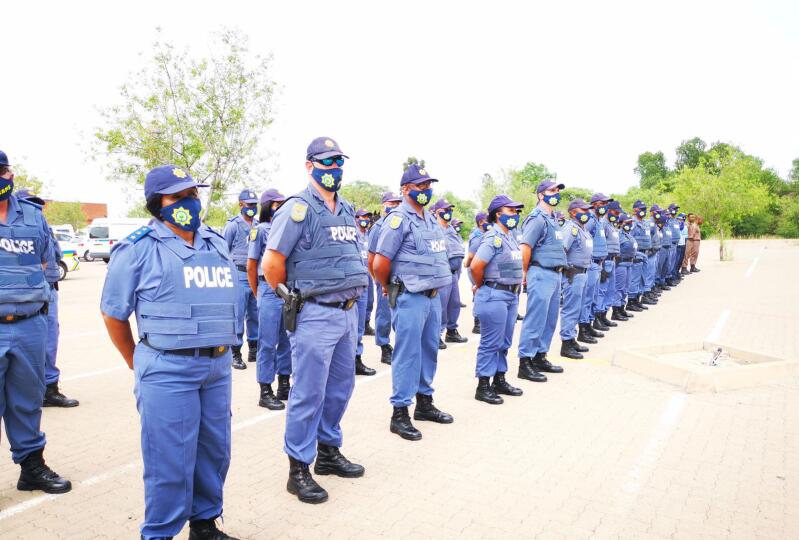 THE MINISTER of Police, General Bheki Cele, has urged police officers to adopt a ruthless approach to criminals and to "use deadly force to defend themselves" if their lives are threatened, during a Safer Festive Season inspection tour of the Northern Cape.
Speaking at the Mittah Seperepere Convention Centre parking lot in Kimberley on Monday morning, Cele, reminded police officials that were entitled to protect themselves.
"It is not what Cele says, it is what is written. Police officers are humans too and have human rights. We cannot call it police brutality. We must be sharp and wise when we do our work, while protecting the people of South Africa and enforcing the law," said Cele.
He added that while they would work on improving relations with communities through the assistance of community policing forums, they had no obligation towards criminals.
"We have no reason to have a relationship with criminals. Part of the preparations by criminals when committing cash heists include eliminating whoever comes in their way.
"That is why bank and house robbers do not carry broomsticks and feather dusters – they carry hard stuff, that's why we give you hard stuff.
"Do not smile when the criminal pulls a gun because that gun is not going to produce a picture, there is no selfie from a firearm."
Cele called on the police officers to be tough on crime.
"We are not Avbob, South Africa needs you. Go with humility and be tough on crime. When they engage you and the dust settles and we pick up the pieces, it cannot be you. It must be the criminal. Criminals must learn to think a hundred times before they attack the police.
"It cannot be so easy for them. Criminals sleep, eat, dream and the next day they attack the police. If a criminal goes to prison, Correctional Services gives them three meals a day, warm water, they watch television and sit freely. It cannot be life as usual."
Cele also cautioned that the new Covid-19 variant has adapted to new conditions and it is imperative for citizens to comply with the necessary precautions.
"In the past 24 hours there have been 10,000 new Covid-19 cases. Take care of yourselves and the lives of others over the festive season."
Cele will visit the Craven Street taxi rank, the Diamond Pavilion Mall and Pick n Pay shopping centre in Galeshewe and will also conduct a roadblock inspection on the N12 road on Monday.