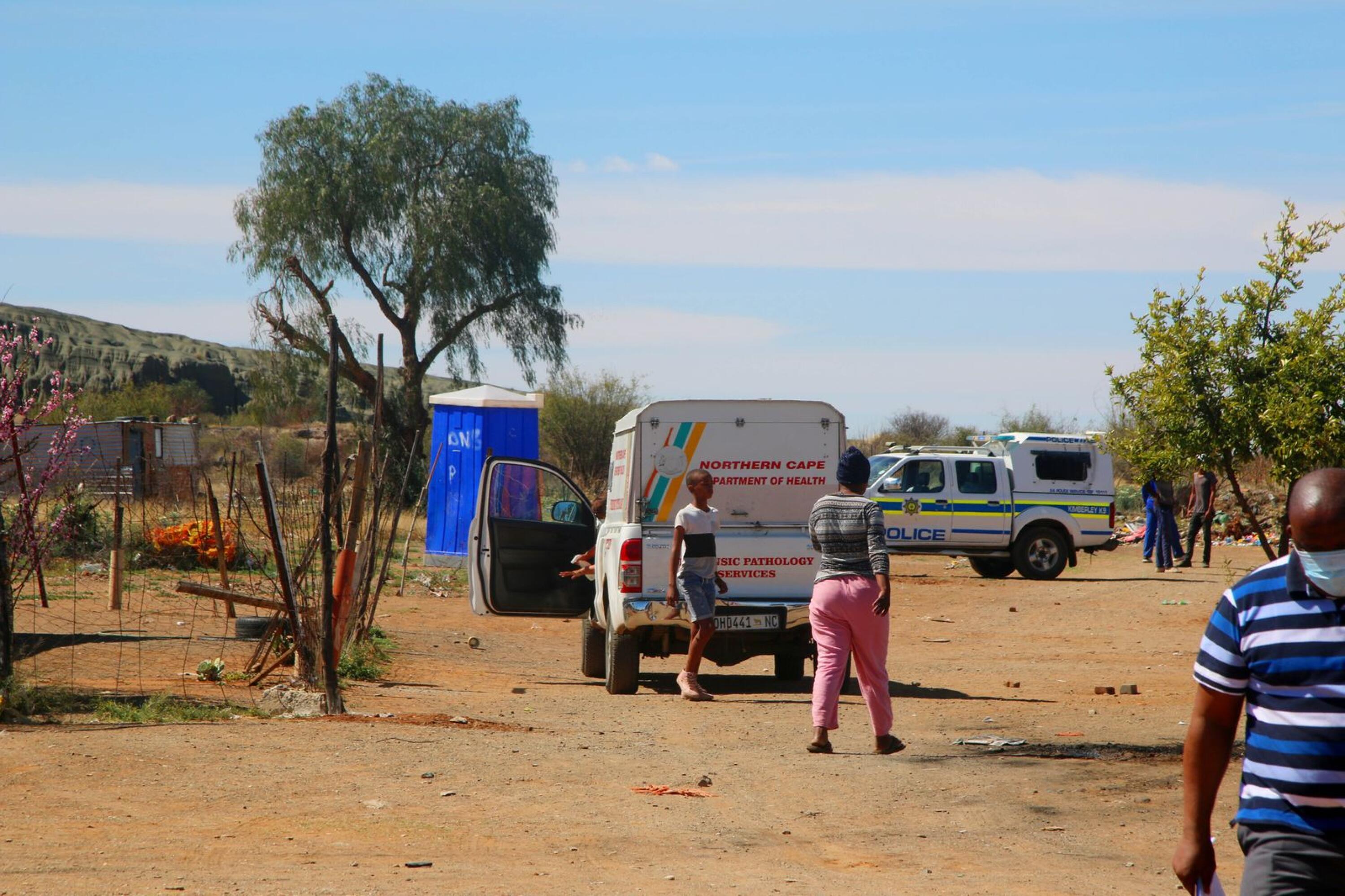 IPID are investigating a case of murder after a police official fatally shot a city man after being called out to a domestic dispute.
A CALL to the police during a domestic quarrel turned deadly after a constable attached to the Roodepan police station shot and killed a 35-year-old man at close range.
Benjamin Sampie died after he was shot in the neck by a police officer who was called to intervene in a domestic quarrel between the deceased and his wife, Yolanda Kuyane.
There was shock and disbelief on Thursday as community members quietly watched the deceased being loaded into a forensic pathology vehicle after the incident.
There was a heavy presence of police, as well as SANDF members, on the scene.
Sampie and Kuyane had four children, aged 15, 13, eight and four years old.
The four-year daughter, who apparently witnessed the incident, was wailing and refused to return home as she wept for her father, saying that the police were at home.
The entire family was clearly in shock and traumatised as they made their way home after they had given their statements to the police.
According to Kuyane, she had asked her eldest son to ask someone to call the police after she and her husband had a verbal altercation.
"Benjamin woke up and said he wanted to clean the yard. I got up as I had lent his wheelbarrow to one of our neighbours. He got angry with me and I sent my son to get the wheelbarrow.
"We exchanged some words inside the house. He (Sampie) had a stick and he was hitting my eldest son, telling him to get up. He also hit me with the stick and my son got angry. Seeing how angry he was, I decided to go to my mother in Roodepan with two of my children. As I was walking, I realised that I had not taken any taxi fare for us. I then turned around and made my way back home.
"Upon my arrival at home, Benjamin and I had a fight. My eldest tried to intervene but Benjamin turned on my son. I then told my other son to go ask someone to call the police."
Kuyane said the police arrived speedily.
"Two police officials arrived at our house in less than 10 minutes. However, when they arrived the fight was over and Benjamin was sitting outside the shanty. He was trying to attach a stick to his rake. He had a knife and screwdriver on him. When the police arrived, he asked them what they wanted in his yard. He then scared them off with the knife and the screwdriver. The police officers ran off. The people who were looking on were laughing at them, saying that they were afraid."
Kuyane said she told Sampie that the police officers might call for back-up due to his actions.
"I asked him why he did that and told him that the officer might call for more manpower. Benjamin then took a walk. On his way home he saw the police vehicle and asked the officers again what they wanted. They then grabbed him and searched him. They found the screwdriver on him. They cuffed him and placed him at the back of the police van. He kept asking why they were arresting him. I thought they were going to drive off with him, however, they then released him."
Kuyane claimed that Sampie was shot while walking home accompanied by the police officers.
"One officer was walking alongside him and another officer was walking a few steps behind him. As he was walking, the officer next to him pulled him, turned him and they were face-to-face. The next moment he shot him in the neck," she alleged.
She added that she cannot understand why the police "took such drastic action".
"The officer could have shot him in the leg or they could have fired a warning shot when they came to the house. The matter had subsided by the time they wanted to arrest Benjamin. They could have just arrested him. There is no justification for killing him.
"There are plenty of measures they could have taken before they shot him. They could have injured him or pepper-sprayed him. They were two and could have overpowered him."
Kuyane said that her family had now lost the only provider in the house.
"Benjamin was the one working and providing for me and our children. He did not drink alcohol or smoke, nor was he taking any drugs. I have no idea how I will bury him now.
"These people (the police officers) came and turned my life upside down. They shot my husband in full view of my children and the community … I am now left widowed and my children will have to live with the trauma of witnessing their father being killed by the police," Kuyane cried.
The Independent Police Investigative Directorate (Ipid) said that they are investigating the matter.
The national spokesperson of Ipid, Grace Langa, said they are investigating a case of murder.
"On September 2, 2021, at about 10.39am, Ipid received a notification of a death as result of police action. Upon arrival, the member who shot the deceased was on the scene. Ipid then took over the scene," said Langa.
"According to information, it is alleged that the deceased chased the officers with a knife. The deceased was a 35-year-old man. The officer shot the deceased in the neck and the deceased died on the scene. The officer was on duty during the incident.
"No arrest has been effected and Ipid is still investigating the matter. The post-mortem was conducted on Thursday, September 2, 2021," Langa concluded.