New emergency medical services vehicles will shorten the response time to emergencies in the Province.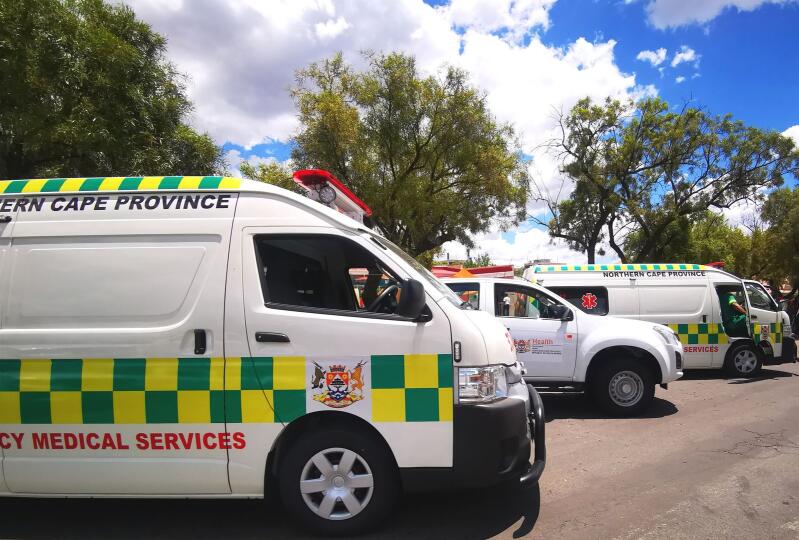 IN A BID to increase the response time to emergencies in the Northern Cape, the provincial Department of Health on Monday officially handed over 75 new emergency medical services (EMS) vehicles and clinical 55 outreach bakkies.
The MEC for Health, Maruping Lekwene, said that 32 of the ambulances had already been delivered to towns around the Province.
Lekwene said the dire need for emergency vehicles in the Province has spurred the department to prioritise this challenge.
"We have experienced a great shortage of ambulances in all five districts in the Province. I have received several messages from community members about ambulances not showing up or about ambulances being late. We even engaged with emergency medical staff and they also complained about the shortage of ambulances. We are aware that the number of vehicles we are handing over are not sufficient, but it is a good start," said Maruping.
"We must ensure that our EMS services do not collapse. Access to emergency health services is a basic service our people in our communities deserve and need. We are pleased that we have these resources during this festive season and during a time when we are reaching a second wave of the coronavirus."
Premier Zamani Saul said the handover will also ensure that communities in the Province have access to health services.
"When we started this administration, we indicated that our priority will be health and education. With regards to health, we said our facilities must be adequately staffed, but it should also be easy for the people in the Province to access clinics and health centres as well as hospitals. We have been working hard to ensure that we have an adequate number of doctors and nurses in our hospitals. We have also ensured that poor people have access to these institutions. Access to these institutions is determined by the capacity, in terms of medical vehicles and staff we have available to assist our people. That is the reason we are continuously launching the roll-out of emergency vehicles and patient vehicles," said Saul.
He added that some of the new vehicles will be handed over in the new year.
"In January, we will receive a further 10 patient buses and 10 ambulances. In total we will have 75 vehicles," he said.
Saul urged EMS workers to prioritise the needs of the people and to ensure that everyone receives the assistance they require.
"Almost every day I would receive complaints from community members about ambulances not responding to their emergency. These new vehicles will shorten the response to emergencies. The timing of the handover is also coming at a time when we are faced with the pandemic and we are in the festive season. We all know what is happening on our roads and we need to ensure that we have the capacity to respond as quickly as possible to any emergency so that people do not perish while waiting for an ambulance," Saul said.
He also urged health care workers to ensure that they observe Covid-19 regulations when assisting those in need.
"We are faced with a resurgence of Covid-19 infections. Emergency workers are part and parcel of the front-line staff and they must keep themselves, and their families, safe during this pandemic. We do not want to lose any front-line staff during this pandemic," Saul said.