"Real losses are defined as physical losses from a pressurised system, up to a point of measurement of customer use. This includes losses from reservoirs and pipe leakages."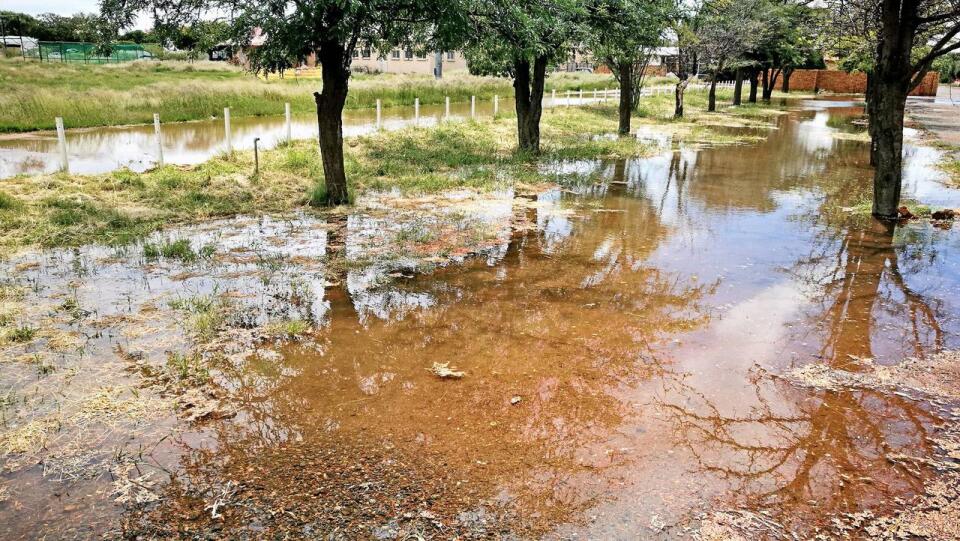 KIMBERLEY lost more than 12 billion litres of water in the last financial year.
This is according to the national Department of Human Settlements, Water and Sanitation, which was responding to a Parliamentary question regarding the total amount of litres of water lost due to leaking reservoirs and pipes in the 2018/19 financial year in each municipality in the Republic.
According to the response from the department, the total water losses of Sol Plaatje Municipality amounted to 12.345 billion litres/area (or 12.345 million cubic metres).
The second highest in the Province in terms of water losses was Dawid Kruiper Municipality, where the losses amounted to 3.7 billion litres, and Joe Morolong with 2.2 billion litres.
According to the department, the latest report on water losses and non-revenue water (NRW) in South Africa estimates the real losses at 1 150 079 000 m³/a.
"Real losses are defined as physical losses from a pressurised system, up to a point of measurement of customer use. This includes losses from reservoirs and pipe leakages."
The department stated that the National Water and Sanitation Master Plan provided a schedule of interventions, programmes, plans, and projects (including, but not limited to, infrastructure) that will be implemented to elevate the current situation in the sector to its desired future state.
"This schedule contains, for each action, specific deliverables, execution times, responsible parties and required budgets. The plan allocates responsibilities to the various tiers of government and other stakeholders for implementation to achieve efficiencies in investment planning, implementation of actions and evaluation of achievements."
The department stated that it was also in the process of implementing a five-year water and sanitation reliability implementation plan that would ensure a pipeline of projects to provide services that are sustainable and keep the municipal infrastructure functional.
"The department is also conducting annual municipal business health checks that include the management of municipal infrastructure. Based on the outcome of the business health check, the department assists municipalities to develop five-year municipal action plans to address areas that require attention, including assets management, operation and maintenance of assets."
Meanwhile, Sol Plaatje Municipality's long-term plans to ensure the sustainable supply of water to residents of Kimberley, as well as to contain sewage spills, has also raised concern.
The DA said yesterday that according to the Minister of Human Settlements, Water and Sanitation, Gugile Nkwinti, Sol Plaatje had yet to submit a longer-term plan to secure the supply of water.
"This is especially concerning given that, while the immediate challenges relating to recent upgrades and new pumps seem to be under control for now, the bigger issues, as noted by the national minister, still require attention," Delmaine Christians, DA member of the National Council of Provinces, said yesterday.
"High water losses in Kimberley have not been addressed, while water conservation and water demand management have also not yet been prioritised. Meanwhile, it is estimated that Kimberley can save approximately R50.599 million per annum by addressing water losses," Christians added.
He pointed out that bulk water readings should be taken at the Newton Reservoir to determine whether any water losses occur on the new bulk pipeline, "especially in light of the fact that Roodepan, Galeshewe, Industria and Gariep Hospital are supplied directly from the line before it reaches the Newton Reservoir".
"The department has also warned that vandalism and theft throughout the municipality remains a problem and worsen water supply interruptions."
Christians pointed out that the department had further cautioned that underspending in the Water Services Infrastructure Grant (WSIG) sanitation projects adversely affected the municipality's access to continued funding. "This is detrimental to the future outlook for the municipality given that Sol Plaatje Municipality has been plagued by numerous sewage spillages.
"In fact, a directive to stop pollution has been issued to Sol Plaatje for the Homevale Waste Water Treatment Works and this case was apparently referred to the national department's legal services unit."
Christians added that while Sol Plaatje may have curbed the daily water cuts for now, they were not out of the woods yet.
"If they do not urgently address long-term water and sanitation issues, they will soon find themselves battling worse crises in the near future … to the detriment of local residents."