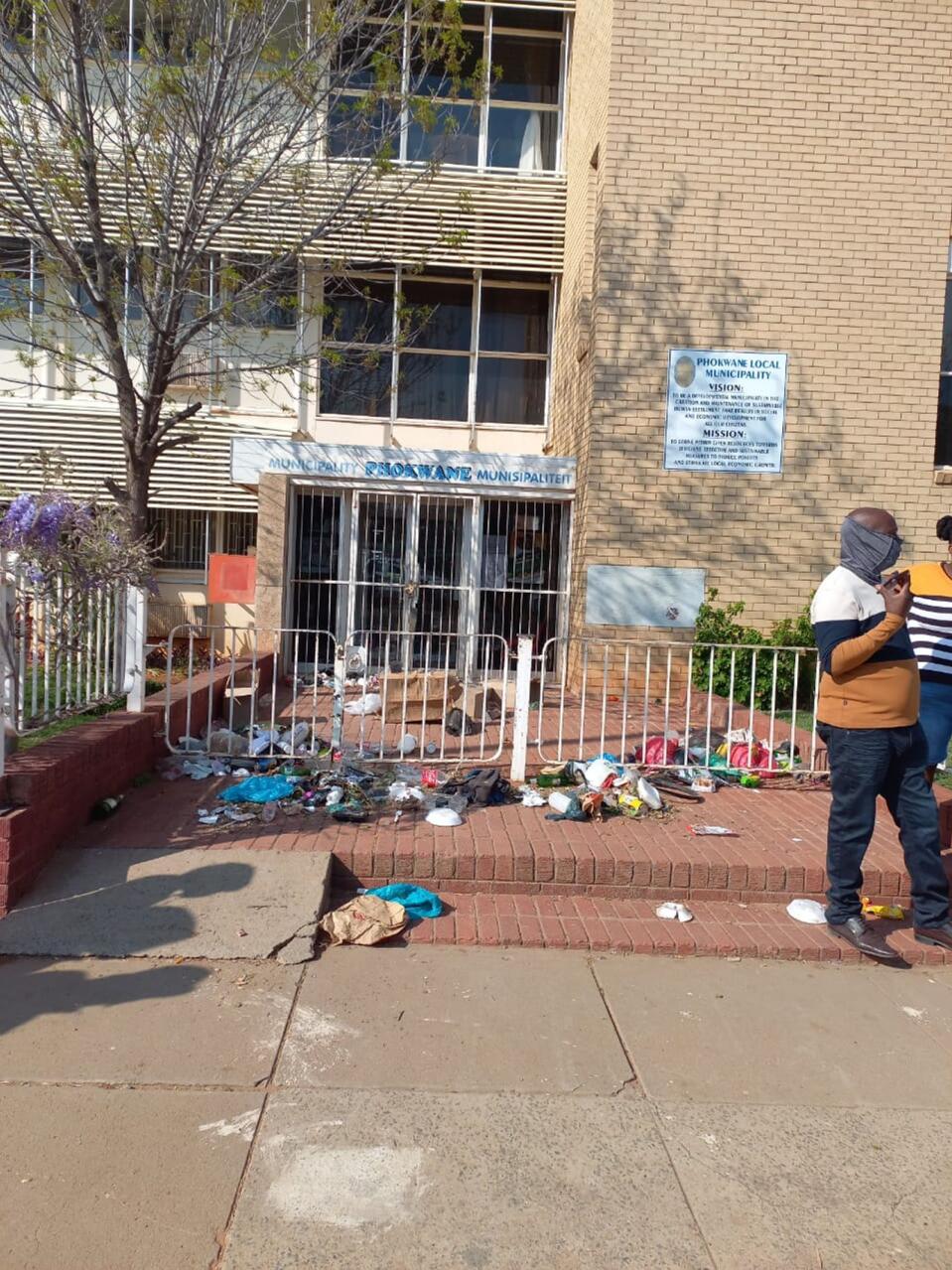 "The municipality has become a battleground of factions pursuing their own agendas."
PHOKWANE Local Municipality is once more a hotbed of controversy, where the municipal manager position has yet again become a battleground.
Opposition parties have indicated that the municipality is technically without a municipal manager.
A protest was held outside the Phokwane municipal offices in Hartswater on Thursday following an urgent interdict that was obtained by the EFF to prevent the appointment of the new municipal manager, Zithuele Nikani, who was supposed to assume his duties on Monday, September 6.
Northern Cape police spokesperson Colonel Dimakatso Sello said no incidents of violence were reported.
"Local police were present to monitor the situation and the people dispersed on their own," said Sello.
Kealeboga Gaborone was seconded from Frances Baard District Municipality (FBDM) as the acting municipal manager at Phokwane Municipality in March, to provide administrative support after it was placed under administration in May 2020.
FBDM covered the cost of the secondment.
Nikani had previously served as the acting municipal manager of Phokwane Municipality.
The municipality had two sets of mayors and Speakers on the payroll after the expelled officials refused to vacate their posts in February 2020 and insisted that they should be reinstated.
According to a court order that was issued by Northern Cape High Court Judge Mpho Mamosebo on September 7, the resolution that was adopted by the Phokwane municipal council during an urgent special council meeting that was held on September 3, to appoint Nikani with effect from September 6, should be suspended.
Judge Mamosebo granted the interdict to prevent and restrain Nikani from executing his duties as municipal manager at Phokwane Municipality.
She ordered the municipality to reinstate the acting municipal manager.
The MEC for Cooperative Governance, Human Settlements and Traditional Affairs (Coghsta), Bently Vass, terminated Gaborone's secondment "with immediate effect" on September 6 as the acting municipal manager at Phokwane Municipality following the council decision on September 3 to appoint Nikani as the municipal manager.
Gaborone was expected to return to the Francis Baard District Municipality.
EFF Northern Cape provincial secretary Shadrack Tlhaole said on Thursday that Nikani's appointment was "irregular, unconstitutional, unlawful, unprocedural and illegal".
"The Speaker of the council refused to recognise or register the objections made by the EFF and other opposition parties that were the majority in attendance," said Tlhaole.
"The EFF made an urgent application to interdict the unlawful council resolutions."
DA Phokwane councillor Annette van Wyk said that the DA and Freedom Front Plus (FF+) brought a motion of no confidence against the Phokwane mayor and Speaker at the same meeting where Nikani was appointed on September 3.
"Neither of the motions were entertained. Councillors were prohibited from debating on whether proper recruitment and selection procedures were followed during both Nikani and Gaborone's appointment," said Van Wyk.
"We wanted to know the scoring of each candidate as we are not satisfied that the appointed candidate fulfils all the requirements."
She said that Nikani's appointment was "bulldozed" through by the council.
"The ANC proposed and seconded the appointed municipal manager and quickly ended the meeting.The actions of council amounted to contempt of the court order as council never extended Gaborone's three-month contract as acting municipal manager that expired in August. She has, however, not vacated her office. It would amount to wasteful and fruitless expenditure if the municipality has to pay Nikani and Gaborone's salaries."
Van Wyk pointed out that it was unlikely that Frances Baard District Municipality would continue to carry the costs of Gaborone's secondment after her contract expired.
"Does it then become the municipality's responsibility to pay her salary?"
FF+ Phokwane councillor Theo Joubert pointed out that Nikani had an unresolved arbitration dispute with Phokwane Municipality.
"Processes were not followed when he was appointed as the municipal manager. The municipality has become a battleground of factions of individuals pursuing their own agendas."
It is believed that ANC councillors are divided in their support between Nikani and Gaborone.
ANC regional spokesperson Sedukanelo Tshepo Louw refuted that any ANC councillors had taken part in the protest outside Phokwane Municipality on Thursday.
"It can never be ANC councillors protesting outside municipal buildings as our councillors are disciplined public representatives, who subscribe to the laws of this country. Our councillors are quite aware as to what procedures to follow when there are disputes raised or issues that need them," said Louw.
He called for calm at Phokwane Municipality.
"The primary objective of our ANC caucus is to stabilise the municipality and deliver services to our communities."
The spokesperson for the Northern Cape Department of Cooperative Governance, Human Settlements and Traditional Affairs, Babalwa Mzambo, said that, in terms of the court order, Nikani was interdicted and restrained from commencing with his position as municipal manager at Phokwane Municipality.
"Gaborone is only the acting municipal manager of Phokwane Local Municipality. We cannot comment beyond what is stated in the court order," said Mzambo.
Phokwane Municipality did not respond to media enquiries.