Calvin Fisher recently attended the 2023 International Motor Show in Munich where he was given the keys to VW's ID.4 Pro. This is his story.
CALVIN Fisher recently attended the 2023 International Motor Show in Munich where he was given the keys to VW's ID.4 Pro. This is his story.
This is important. Volkswagen have been making the people's cars since 1938 with the original Beetle. That car's brief included being able to carry two adults and three children comfortably, and to the tune of 7l per 100km or less. How far we've come.
Literally to Munich, Germany, where I've commandeered a shiny blue VW ID.4 Pro. And no, the Pro model doesn't come with a larger screen and better cameras, that's an Apple iPhone you're thinking of. Here, that designation points to a more resolved mid-life offering, featuring several upgrades over the older non-Pro model, most notably a larger battery pack – extending the range of the car to 443 kilometres. It's what Mzansi deserves, nay, requires from a compact SUV.
So it's an SUV?
Of course it is. An uncomfortable fact is that we live in a automobile landscape where the C Segment hatch has dwindled into a niche where higher-riding crossovers are thriving.
Electric propulsion is already a rare thing, so packaging it into a beloved bodystyle just makes sense, especially since it'll be the marque's debutante ID car in South Africa.
Think Tiguan only marginally sleeker, with a contemporary cabin that manages to straddle the line between premium and futuristic.
Life aboard is dominated by a new, massive 12.9 inch infotainment screen which thankfully is complemented by manual controls for the HVAC, so no need to have a meltdown while swiping away at the sliding screens for the AC.
The user interface and menu navigation have been extensively reworked, in an attempt to make the experience as intuitive and personalisable as possible.
Like your smartphone, the display features permanently visible touch bars at the top and bottom of the display, with the dynamic content in between. Overall, the result is a screen that is chock full of detail, but with minimal clutter – so won't overwhelm you, despite being the main touchpoint in a very futuristic vehicle.
The pews are comfy with an array of tactile surfaces and textures, with plenty of space front and rear. Even without the inclusion of a sunroof, Volkswagen have done a great job of bathing the interior with natural lighting.
After hopping between several models in their ID range, it feels as though this added levity has been a mandate across the range. Indeed, their design team have been tasked with creating optimistic cars, smiling cars. And a quick glance at the front end proves it, just look. None of that overly serious business-suit wearing that has gotten a bit tired as of late in vehicle styling. Replaced as it were with a more enthused expression. Even our test car's blue paint looks happy.
But how does it go?
As well as you'd expect, I suppose. That is, very well – it is after all a premium Volkswagen product with a weighty, torquey electric powertrain. That means it will bury your head into the backrest under full acceleration, sit flat on the road as you weave through city confines and ditto when the road opens up to dance.
The Pro model is in fact considerably more powerful than the regular ID.4, outputting 210kW and 545Nm – making our test loop from the city centre to the German countryside via the Autobahn an absolute pleasure. The list of updates to this, the first ID model destined for South Africa (as soon as next year) are extensive, including a new 77 kWh battery hence the greater range and faster charging.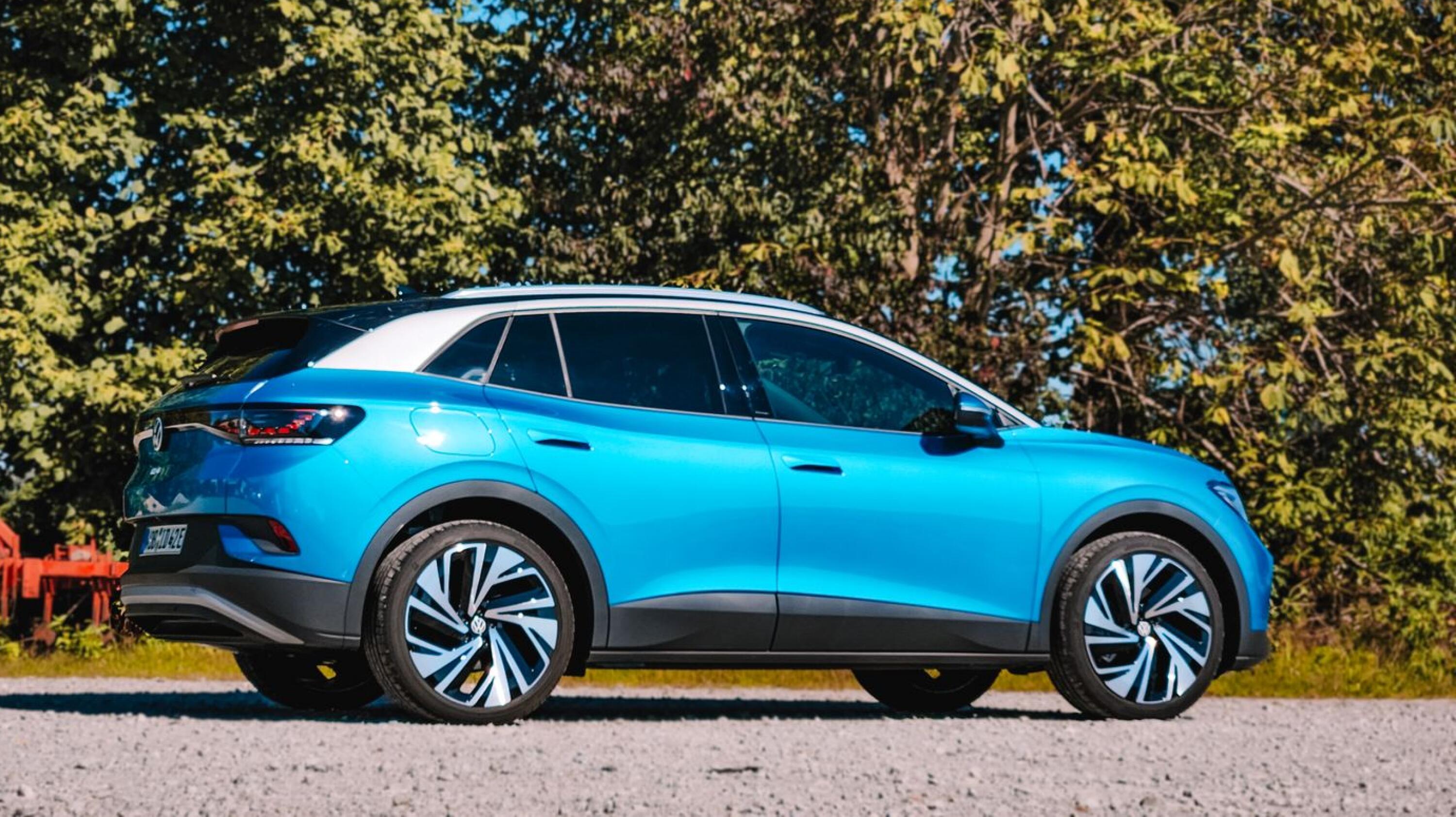 The multifunction helm has also been redesigned, now with more familiar tactile buttons so you won't need to dip into the digital controls as much as before. Add to that a heads-up display and you rarely have to take your eyes off the road. On that note, a simple "hello ID" voice prompt unlocks a ton of features including climate control, navigation, and multimedia. The latter now being piped through premium Harman Kardon sound system.
Naturally, the ID.4 Pro features an array of safety technology and gear, too many to mention in fact. What is notable is the inclusion of Volkswagen's new Vehicle Dynamics Manager – think of it as stability control on steroids, and with a PhD in ABS, EBD and the rest of those acronyms. So it's a very smart central control unit, able to coordinate the vehicle's lateral dynamics, able to continuously ensure maximum driving stability even when braking into bends.
This is the same unit deployed to harmonise the powered front and rear axles in their 4MOTION models, which are certainly destined for Mzansi at some point.
Despite this being a driving impression, a review of any sort of electric vehicle ultimately becomes a discussion on electrification versus the South African power grid.
Personally, I don't believe EVs are the answer. But I believe that they are part of it. I believe that instead of creating a new bottleneck in our chain of resources, that an array of power sources including coal, electricity, hydrogen, biofuels and more makes the most sense.
This is Africa, we need to be practical, but also realistic with our expectations. And I expect that the ID.4 Pro will make a strong impression on our roads when it gets here – it is after all an attractive family car from Volkswagen, one that I can testify drives well. If you can get past the alt fuel, or in fact embrace it, you'll be rewarded with a great new entry in VW's local portfolio and another compelling EV.